I've got a special treat for you! Raw chocolate truffles that only require two ingredients.  I know you're probably thinking, "How is this even possible?"  Well it is! This recipe is so easy that there's absolutely no excuse not to try it out.  I've had a few of my friends tell me that they love my recipes and really want to try something, but they are a little intimidated. This is a great one for the newbie raw foodies to try.  This recipe's simplicity will really make you think about how complicated foods have gotten.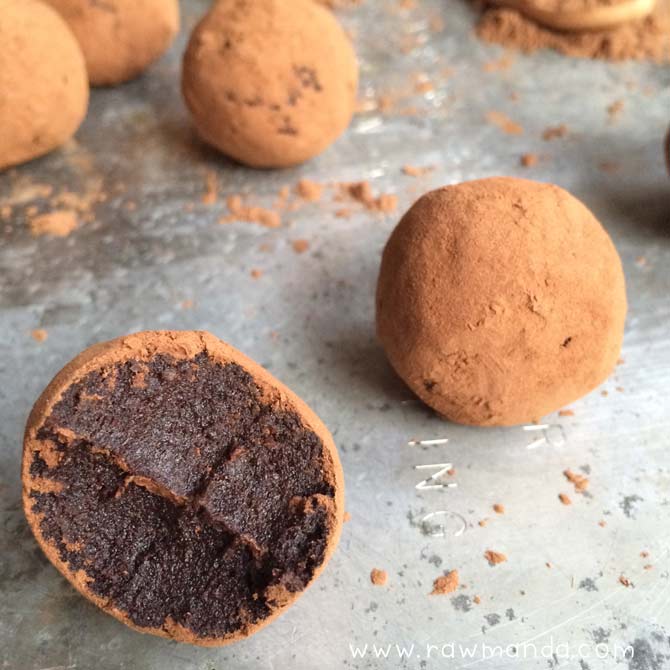 The key ingredient is high quality soft dates.  Medjool dates are a variety that are commonly found in grocery stores (i.e. Whole Foods, Trader Joe's) that would work perfectly.  I always recommend organic, although I understand that it's not always an option for everyone.  Deglet noor is also very popular and I often see them in stores but I don't think they come out as luscious as they should since it's a less sweet and firmer type of date.  With those you would most likely need to add some coconut oil to make the truffles smooth and creamy.
I order dates in bulk from 7hotdates.com. Usually 15 pounds at a time while they are in season (September – March/April). These are the best dates I've ever gotten my hands on.  I know not everyone is ready to buy that much, so please know that they have options to buy smaller orders.  I just know that their dates sell out so fast and once they're gone I have to wait until September until I can get my hands on those babies again. If you have the low down on some great places to purchase dates, please share them with me in the comments below.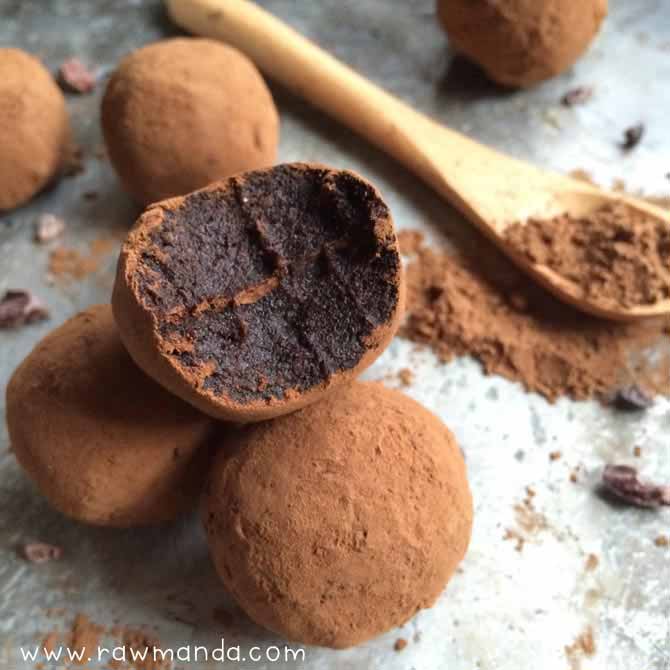 Since these raw chocolate truffles are so easy to make, you can get really creative with the recipe and add in things for flavor or texture.  If salt is your thing, go for it.  Chopped nuts are always a great addition to raw treats to add some crunch.  Add mint essence for a mint chocolate truffle.  Feeling spicy? Get bold with some chili powder!  As you can see there's so many things you can do with this recipe, so don't be afraid to add your own personal touch to them. To test my theory of adding whatever you want, I tried using Bare Blends –  Berries in place of the cacao powder. To my surprise, the freeze dried berry powder was a huge success.  I rolled them in shredded coconut for effect. Perfection!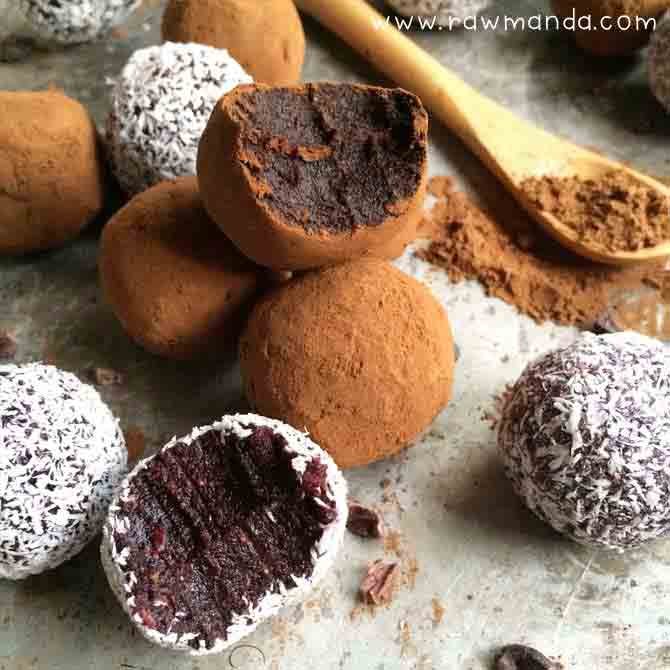 The final thing I'm going to mention about these raw chocolate truffles (besides the fact that they are of course, vegan) is that they are LOW-FAT.  Yes, I said it.  LOW-FAT. Now you really have no excuse! Who doesn't want to enjoy an endless amount of chocolate truffles around the holidays.  If you try out these bites of heaven, you will not regret it. They seriously taste as good as they look – creamy and decadent. I packaged some raw chocolate truffles together with a few other raw treats like gingerbread cookies and handed them out to my co-workers.  So if you're in the giving mood, these raw chocolate truffles are a wonderful and unique gift idea!

Raw Chocolate + Berry Coconut Truffles
Ingredients
2 cups high quality soft dates, pitted
2-3 tablespoons raw cacao or carob powder, additional for coating
optional ingredients: 1 tablespoon coconut oil, 2 tablespoons chopped nuts, 1 teaspoon vanilla essence, sea salt to taste
--
Berry Coconut Truffles
2 cups high quality soft dates, pitted
2-3 tablespoons organic berry powder
2 tablespoons shredded coconut
Instructions
Blend your high quality soft dates and cacao/carob powder in a high speed blender or food processor until you have a very smooth uniform consistency. Use your tamper or spatula to scrape the dough down until it's well combined as you blend.
Scoop out mixture, roll into small balls and place on parchment lined baking sheet. Mixture will be very sticky, wet or lightly coat hands with coconut oil to make it easier to manage.
Roll balls into cacao/carob powder.
Place truffles in the refrigerator for at least one hour to firm up.
Notes
If you are not using high-quality soft dates soak in warm water for atleast an hour beforehand, pour out excess water and dry off dates very well.
Add coconut oil if the dates are too hard while blending.
Store truffles in an air tight container in the refrigerator.