There's something so enjoyable about eating your favorite color. That might have sounded weird, but I get really excited when my homemade ice cream and smoothie bowls turn a beautiful vibrant color like this acai berry ice cream did! I don't always get so lucky. Most of my smoothie bowls are made with some sort of spinach-kale combination and green doesn't always mix too well with other colors.
Not only was this ice cream easy on the eyes, but it also tasted so crisp and refreshing! I added Organic Burst's Acai Berry capsules to the blender for an extra superfood boost. I love adding clean superfood powders to my smoothies and I really appreciate the raw pure quality in their products.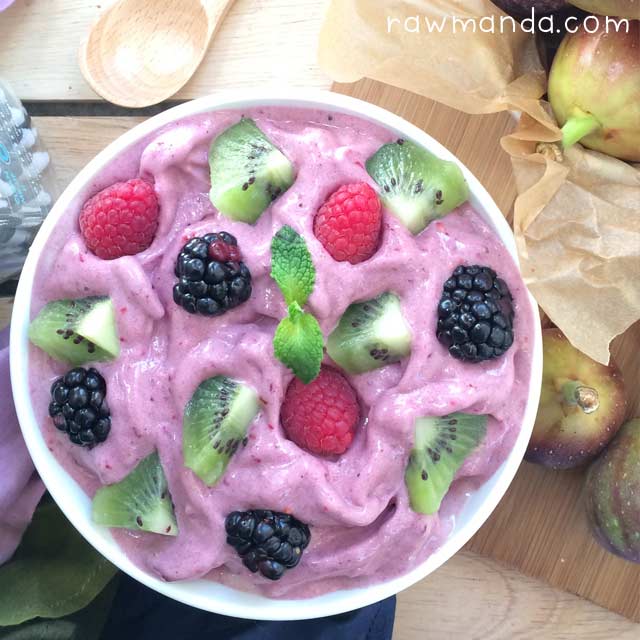 Organic Burst acai berry capsules are made from 100% pure Amazonian acai power, which means absolutely no fillers or additives at all. The powder is created by freeze-drying acai pulp as soon as the acai berries are picked from Brazil's rainforest palms.
Benefits of Acai Berry
Here are the benefits of acai berry as listed on the Organic Burst website:
High

Oxygen Radical Absorbance Capacity (

ORAC) Score. Organic Burst Acai has a high ORAC score of 70,000 (3x higher than goji and 10x higher blueberries). It is a source of polyphenols, the compounds that make it so purple. The darker the colour, the higher its levels of polyphenols.
Acai is rich in essential fatty acids omega-3-6 and contains omega-9 oleic acid.
Reduces Total and Non-HDL Cholesterol. Studies have shown supplementation with acai can reduce total and non-HDL cholesterol.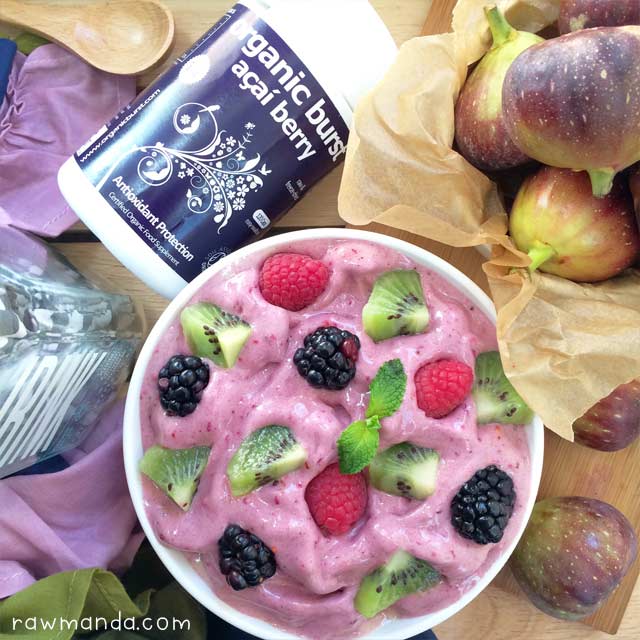 Even if you don't have acai powder on hand, you can never go wrong with some delicious homemade berry-banana ice cream. Adding mint just takes this ice cream to another level.  That's pretty much what fresh herbs do, they take food to another level.  As if this recipe wasn't already refreshing enough, the minty flavor gives each bite a cool sensation that tingles my mouth. Most people would consider ice cream to be a dessert food but when you're eating a high-carb low-fat diet like I am, ice cream is perfectly suitable for breakfast!

Acai Berry Mint Ice Cream
Ingredients
Ice Cream
5-6 frozen bananas
1 cup mixed berries
5-6 fresh mint leaves
4-6 Organic Burst acai berry capsules


Toppings
fresh fruit
Instructions
Add half of your frozen bananas to a high-speed blender or food processor. If using a blender, continue to push down the bananas with your tamper.
Add in mint leaves, acai berry capsules and blend until evenly distributed throughout the ice cream.
Slowly add in the remaining bananas until you have a thick uniform consistency like ice cream.
Scoop out mixture into a bowl and add toppings of choice.
Notes
If you are having issues blending bananas with your blender, add half of a fresh banana, almond milk or water.