Smoothies are one of my favorite ways to start the day. I love to incorporate as many raw fruits and veggies into my diet as possible to experience the full nutritional benefits of the foods I'm eating. I typically eat fruits for breakfast/lunch and then end the day with a large salad.  Eating this way has done wonders for my digestion and keeps me energized all day long.
The wintertime has made it a little challenging to maintain a fully raw diet. I occasionally have cooked foods like baked sweet potatoes, steamed veggies and brown rice for dinner.  I've noticed that when I'm not as consistent with eating mostly raw foods I don't experience the best digestion but sometimes I just really crave something warm  to eat when it's cold!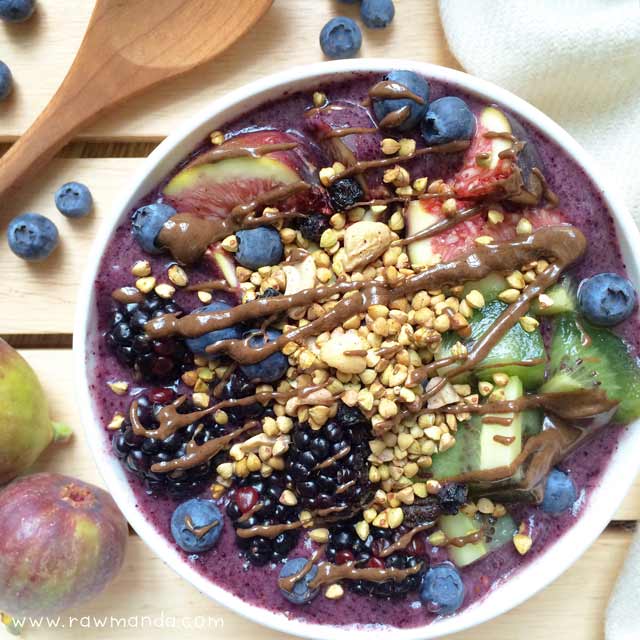 I've recently discovered Emmy's Organics, an environmentally conscience company that creates a wonderful line of raw, vegan, organic, gluten-free and gmo-free food products. Emmy's Organics is a sustainable business that supports organic and non-gmo farming. It's reassuring to know that the products I share with my followers on social media and on my blog come from companies that not only create nutritious foods but are also socially responsible.
I enjoyed Emmy's Organics Blueberry Cashew Super Cereal in this smoothie bowl along with a few extra handfuls that I snacked on. The cereal is incredible! I love that I can still enjoy a nice crunch while still eating raw. Buckwheat groats are so awesome as a replacement to conventional sugar-loaded processed cereal.  After looking at the healthy ingredients in this cereal you might think twice the next time you're in the cereal aisle.
INGREDIENTS: Organic Sprouted Buckwheat Groats, Organic Granulated Coconut Nectar, Organic Raisins, Organic Raw Cashews, Organic Blueberries.
If you've been following my recipes you'll know how much I love using buckwheat groats! Unfortunately I don't always have time to sprout them.  Sprouting the seeds "wake up" the minerals and enzymes that would otherwise stay dormant if left unsprouted. It's also best for digestion to eat sprouted nuts and seeds. Emmy's Organics super cereals are made with organic sprouted buckwheat groats which is incredibly convenient and gives me one less thing to do!
Check out Emmy's Organics' other raw, vegan and gluten-free products like their very popular macaroons (chocolate chip, chai spice, lemon ginger… YUM!!) and other incredible super cereal flavors on Amazon.

Acai Berry Smoothie Bowl
Instructions
Add bananas, frozen blueberries and acai capsules to blender until you have a smooth creamy consistency use ½ cup filtered water or coconut water if you are not using a high speed blender.
Pour smoothie into a bowl and top with fruits and super cereal.
Drizzle your favorite nut butter and enjoy!