Avocados are the best for a creamy pasta sauce – nothing compares to it! Whip up this avocado basil pesto and toss your favorite noodles in. My favorite part about this recipe is how quickly you can have the pesto ready.  It takes just a few minutes to prepare. Toss everything in a food processor and you'll have yourself an extremely tasty pesto. If you're new to vegan or raw food, this is the perfect place to start.  The pesto is filling and satisfying, I promise you won't feel like you're "missing" a thing :)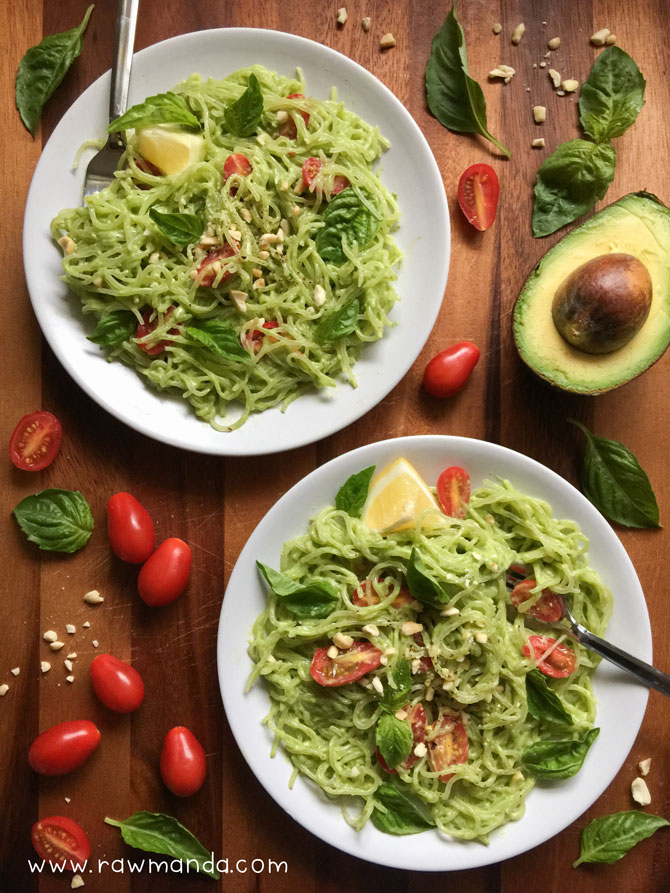 We all have our guilty pleasures when it comes to food and mine is definitely avocado.  I would eat one at every meal and on everything if I could. It's literally perfect for breakfast, lunch and dinner. I do typically like to keep my day-to-day meals low in fat, there's no way I could ever say good-bye to to these healthy fats.
I used kelp noodles here, but I've definitely enjoyed the pesto with regular pasta and zucchini noodles. If you do decide to use kelp noodles like I did, just make sure to let them "marinate" in the pesto for a few minutes to soften them up. The longer you let your kelp noodles sit in the pesto, the softer they will get. I know, your mouth will probably be watering as you wait for these minutes to pass by but I have faith in you! Please let me know what you think of the recipe in the comments below, I love hearing back from you, enjoy!

Creamy Avocado Basil Pesto Pasta
Ingredients
Avocado Basil Pesto
2 ripe avocados
½ cup fresh basil leaves
¼ cup olive oil
¼ cup pine nuts
2 cloves garlic
2 tablespoons freshly squeezed lemon juice
Sea salt and cracked black pepper, to taste
--
2 packages of kelp noodles
1 cup chopped cherry tomatoes
Instructions
Place kelp noodles in a colander and rinse with water.
Blend all ingredients for the avocado basil pesto to a food processor or high-speed blender.
Add kelp noodles to a large bowl and toss with avocado basil pesto and chopped tomatoes. Allow kelp noodles to "marinate" in the avocado basil pesto for a few minutes, this will soften up the noodles.