I took a trip to Banana Island for the past 3 days. All of my meals consisted of ripe bananas (mostly frozen smoothies/ice cream). For those of you who aren't familiar with the term Banana Island or "BI"- simply put, your diet consists of only bananas (and optional greens) for a select amount of days, yup #bananasfordays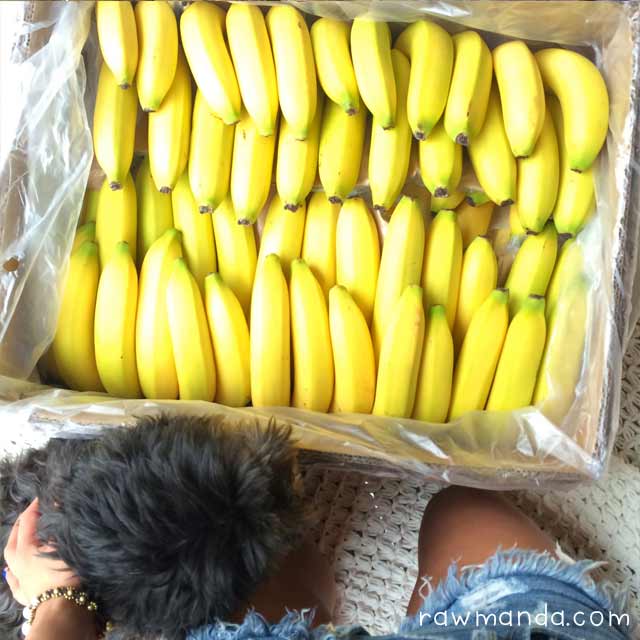 Just One Fruit for a Meal?
Eating a single fruit meal is very beneficial for digestion. All of the energy that would've gone to digestion goes to healing other areas of the body since it requires less work to digest a "monomeal" of just one single fruit, in my case just bananas. Doesn't that sound intriguing? If anything, BI gave me a chance to really witness the miracles my body is capable of.  I use the word miracles because this is the type of healing most people will never allow their body to experience.
When to do Banana Island
There's no perfect time to do BI. You really must want to do it in order to make it happen. We all have excuses, commitments and reasons as to why it's not convenient right now, but maybe later… This is why I set out to do 3 days, because it was terrifying to think of doing anymore than just that but short enough to not make excuses.
Why Bananas? (and Greens, Coconut Sugar, Cinnamon and Dates)
First of all, if you love bananas and are afraid you might get sick of them on BI.. this did not happen to me, I actually still crave bananas and this might be due to the fact I added greens, coconut sugar, cinnamon and eventually dates for variety and to stop my mind from focusing too much on the thought of "just bananas." Bananas are easy to blend, cheap and filling. The most important thing to know about eating bananas is they MUST be ripe to avoid negative side effects! This means brown spots (think leopard print). Are you afraid that bananas or BI will lead to constipation? Then don't eat yellow unripe bananas, eat spotty ripe ones and you will have much better elimination!
Banana Prep
Bananas are the perfect food for this type of cleanse.  Most people who have done BI have told me they stopped because they ran out of bananas.  So having enough ripe bananas around is essential for BI! I started buying organic bananas in bulk from my grocery store (MOMs) and receive a 10% discount on 45 pound box. Once my box of bananas are ripe, I peel them, measure about 600 grams (because 6-7 bananas is an average meal for me) on my food scale, cut up in 2-3 pieces for easy blending, toss them in ziplock bags and put them in the freezer.

What I ate each day:
Day 1 (22-24 Bananas)
Banana Ice Cream: 7 frozen bananas
Banana Smoothie: 6 frozen bananas, 3-4 cups water, coconut sugar, cinnamon
Banana Salad: arugula, 4 bananas, cinnamon
Snacks: 5-7 bananas throughout the day
Day 2 (13-15 Bananas)
Banana Ice Cream: 7 frozen bananas, 2 tbsp coconut sugar, dash of cinnamon
Banana Mylk & Cereal: 2 cups cold water, 2-3 frozen bananas, 4-5 chopped bananas, pure vanilla extract
Snacks:10 medjool dates
Day 3 (17 Bananas)
Green Banana Ice Cream + Banana Cereal: 4 frozen bananas, 2 handfuls of greens, 1/2 cup water, 1 tbsp coconut sugar, dash of cinnamon, a few mint leaves plus 2 chopped bananas
Green Banana Smoothie: 2 cups cold water, 4 frozen bananas, 4 handfuls of spinach, a few mint leaves, 1 tbsp coconut sugar, dash of cinnamon
Green Banana Smoothie: 2 cups cold water 4 frozen bananas, 2 handfuls of spinach, 1 tbsp coconut sugar, dash of cinnamon
Snacks: 3 bananas with 5 chopped medjool dates
How I Felt During/After Banana Island
How I Felt: Day One
I experienced cravings all day.  These were not physical hunger cravings, they were mental and emotional cravings for anything but bananas. Anytime I was bored or thought about quitting I snacked on a banana. This snack attack happened about 5 times throughout the day and by the end of the night I was turned off from eating bananas actually realized the difference between hunger and boredom because I didn't want to mindlessly eat another banana – this identification is huge for me!!! Adding arugula and cinnamon to my last meal of bananas gave me a variety I needed for taste and texture.
How I Felt: Day Two
I was tired and a bit sluggish in the morning. I started my Saturday morning with 30 mins of upper & lower body weight lifting followed by 30 mins of yoga. My energy felt a little low and my work out felt very half-assed.  I then made an epic banana ice cream with coconut sugar that made me feel amazing! I spent a few hours at the pool and before I knew it, it was late afternoon/not quite dinner time and I had my next meal.  A few hours later I was hungry/bored, this was when I went for the dates. I felt like I was cheating but they were soooo good! At this moment I felt guilty and thought to myself, I blew it!  I couldn't even do 2 full days! I left my apartment and went to out to the mall, I had to get out and keep myself from "falling" further.
How I Felt: Day Three
I woke up with those dates on my mind and thought, did I fail?  Should I just call it quits?  Then ate breakfast and looked online for more Banana Island experiences, noticing more and more how many people do incorporate dates into the cleanse. Dates are classified as a sweet/alkaline fruit, just like bananas (also figs, prunes and dried fruit). This means both fruits digest at the same rate in our bodies, making dates an extremely reasonable addition to the BI experience.  I incorporated a large amount of greens into my meals compared to my first two days and I felt much better!  I did a 30 minute leg circuit (a ton of squats, lunges, etc.) and 15 minutes of ab exercises.  I was full of energy and was really able to push myself. I was thinking alot less about "just bananas" on day 3 – more about how I was feeling and how I exciting it was to tailor a cleanse that was right for ME. I was able to quickly let go of feeling like a failure from eating something "bad" by looking at the bigger picture and focused more on how I was already seeing results in my fitness performance.

Post Banana Island Glow
Keeping my diet simple allowed me to be in touch with my emotional relationship with food and really learn in a short amount of time to be gentle on myself. My tummy was noticeably tighter and I felt lighter in general when I woke up after Day 3.  Nothing motivates me more than seeing and feeling results!  I am proud to know I accomplished something HUGE!  When you have an emotional relationship with food, succeeding in any type of challenge like BI will make you feel like you are in control, not the food. How rewarding is that? Just another reason to experience it! Gaining control was not a benefit I was really focused on when I first started BI.  I was more in it for the body reset, to get my digestion and elimination on track, heal my acne/skin and to flush out toxins and to just do it after hearing so many awesome stories!  It's funny how something so simple like eating bananas for 3 days can feel like such a challenging adventure and help you to grow in so many unexpected ways.
I also need to mention my skin! After adopting a raw food diet in March (with a few days of cooked vegan meals) I have had a kind of upsetting acne breakout and unfortunately it's worse now that I have been fully raw all of June. I believe in the 801010 raw vegan lifestyle and understand that there will be detox symptoms in this journey so I try my hardest to not let it get the best of me. I mean, there's no way cooked foods is going to make my acne go away!  My body is just healing itself after years of unhealthy eating and lifestyle and pushing all of that buildup out. It will take time to reach optimal health and I'm more than willing to trust the process.  I have seen a noticeable difference in my acne after just 3 days in BI.  It's less puffy/swollen and its almost as if my zits are drying out! Ew. I know it's gross but this is BIG!
What I will do differently next time
7 Days minimum. I think a week is probably the best way to really see results.. 3 days didn't seem long enough to see/feel the benefits!
Use my dehydrator.  I think one of the challenges was a lack of texture.  I'm curious about dehydrating banana into chips and pancakes.
Research banana recipes. Theres a ton of creative and experienced people who have documented their Banana Island adventures.  I will be doing more research on recipes for sure via Pinterest, Instagram and Google!
More leafy greens, many people recommend lettuce as it's crunchiness compliments the bananas.
Support Group. I would've loved to connect with people who were going through the same thing and I know it would really help me stay motivated if it was a group vs individual challenge.
Minimize Temptation. Don't buy weekly groceries until after Banana Island. Ive been eyeing my produce that I bought for after BI, rookie mistake for obvious reasons :)
More Information on Banana Island
Here are just a few resources you can take a look at if you're interested in learning more about Banana Island.  Some of these wonderful people are 100% 801010 raw vegan and some are not which is a perfect example of how anyone can really benefit from this detox regardless of your current diet!  I'll keep adding to the list..
Feel free to leave your feedback, questions, comments, anything by leaving a comment below!