I've been in the process of packing up my apartment and moving furniture (fun!) so I haven't had a chance to write up a review on my latest obsession until now.
Earlier this month I received Bentgo's all-in-one stackable lunch containers, insulated lunch bag, sauce containers and leak-proof cup. I am so impressed and amazed by the quality of all these products. Every item fits perfectly into the lunch bag with extra room to spare for an ice pack and additional snacks, talk about practical! Each container is made with eco-friendly materials and are BPA-free.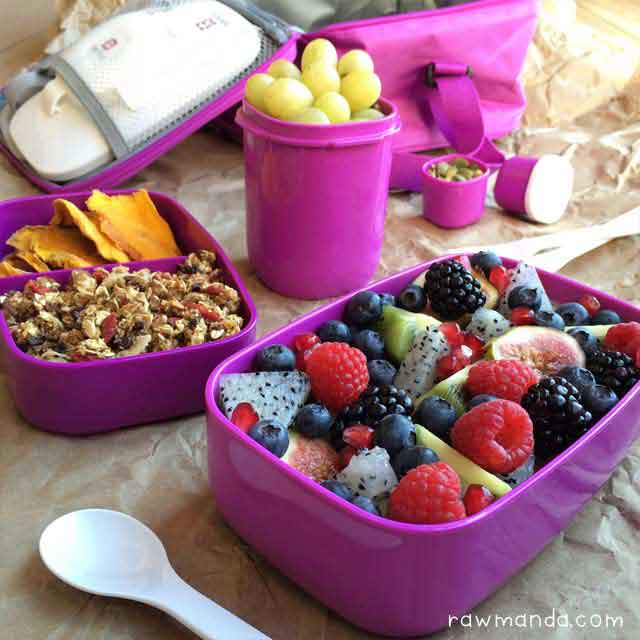 I am inspired each time I use my Bentgo containers to add variety to my lunches but without over-eating, thanks to the perfectly portioned compartments. If these travel-friendly portable meal containers weren't already amazing enough, they are also dishwasher/freezer safe and microwaveable.
Stackable containers (plus sealing strap + plastic ware):
top container (2 sections): 3.4″ x 4.3″ x 1.7″ each section
bottom container: 7″ x 4.5″ x 2.5″
Insulated lunch bag: 8.3″ x 8″ x 5″
Sauce containers (2 pack): 1.35 ounces
Leak-proof cup: 12 ounces
There is a mesh pocket on the top interior of the bag to store additional items like napkins, condiments and lids to your containers. Attached to the inside is an elastic strap that can securely hold an ice pack in place. It has an adjustable strap so I can comfortably carry it while I'm on the go. The sealing strap keeps the two stackable lunch containers in place. The lid to the cup snaps on making it leak-proof and yes, they thought of everything: in between the two stackable containers is a tray that holds a plastic fork, knife and spoon.
Purple was the obvious choice for me because it's my favorite color but Bentgo also comes in other colors: green, blue and gray. I must say the purple is stunning, vibrant and sleek! I think I need one in each color so I can prep in style for the whole week.
One of the easiest ways to maintain a healthy lifestyle is being prepared. Bentgo makes this possible with perfectly portioned compartments. I can't believe how much each of these containers fit. At first glance the storage size looks deceptively smaller than it really is. It wasn't until I put food into the compartments that I realized how much food I could put in there.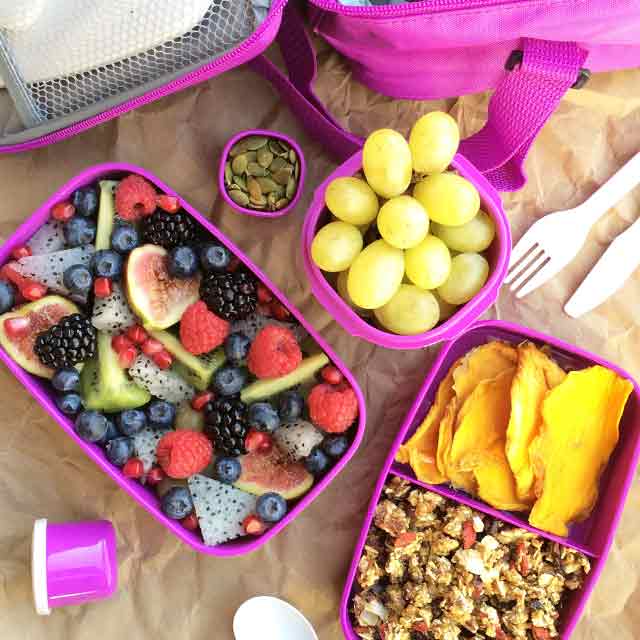 I can store tons of cut up fruits in the large container and dried snacks, like dried mango slices and my 5-Minute Rawnola, in the two top compartments. The small containers are useful for sauces and nuts/seeds to snack on – they may look small, but trust me it's the perfect snacking size for nuts and seeds.  Since I normally carry around an insulated water bottle, I love the option I have to pack more fruits in the cup.
Bentgo is made for everyone and any diet or lifestyle. Sandwiches, wraps, salads, pastas, crackers and cookies can all easily fit in the containers.  I just love my fruit, so that's what I've been storing in my Bentgo. The most important thing is, whatever you decide to pack in your lunch, you can always count on Bentgo to help you portion your meals.
I do want to mention that the small containers are not leak proof (as stated in the product description) so everything needs to remain upright, which won't be a problem for me as long as I don't vigorously swing the lunch bag around or throw it up in the air.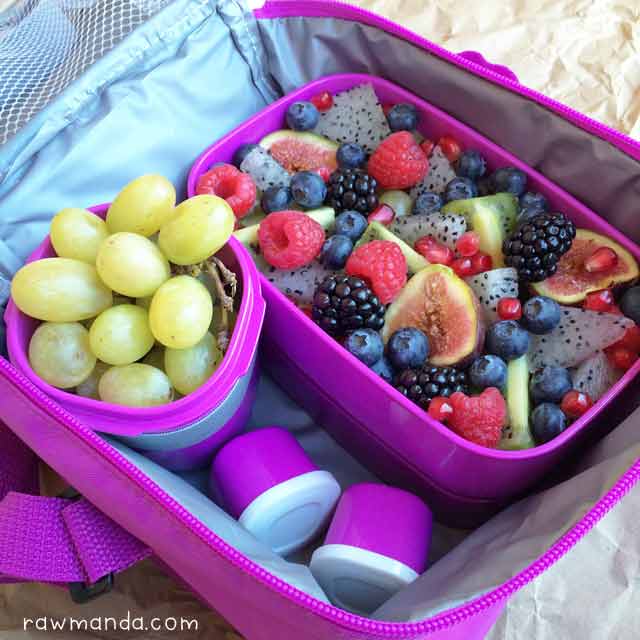 Bentgo has also helped me to reduce my carbon footprint and cut down my use of plastic and paper containers. There is no reason why I should be using zip-lock bags to carry any food around, it's harmful to the environment and is incredibly wasteful. Using products that are re-usable is the only responsible option when transporting meals.
Bentgo's products are all available on Amazon! The pieces are sold separately so you can easily try out some of the containers before fully committing to buying the whole set. They also offer a 2 year warranty to make sure everyone is fully satisfied with Bentgo as a long-term meal packing solution.
Disclosure: Bentgo provided me with sample products, but as always, all opinions are my own.