With summer right around the corner, I have wanted make a healthy and refreshing citrus treat to enjoy in the California heat. Although I must admit we experience summer-like weather pretty much all year-round so I suppose that makes it okay to make these treats all year-round as well? Well, whatever your reasons may be for creating desserts, just know that the combination of lemon and blackberries in a sweet treat is sure to hit the spot. I have partnered up with Driscoll's Berries to deliver you a dairy-free, grain-free and super refreshing raw blackberry lemon tart.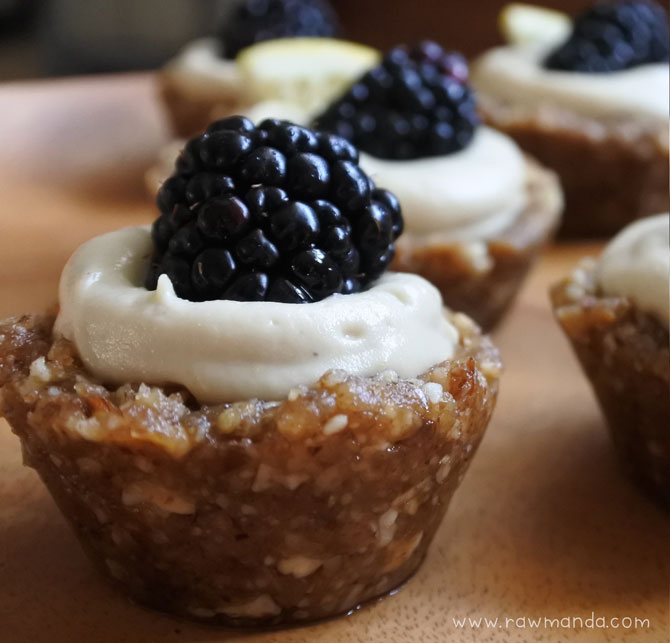 I'm working with Driscoll's because every time I visit the grocery store, I end up grabbing several of their products. I've used their berries for as long as I can remember. During my latest trip to the store I took my usual turn down the produce aisle, spotting Driscoll's Organic Blackberries and it was very obvious blackberries were in season by their juicy size.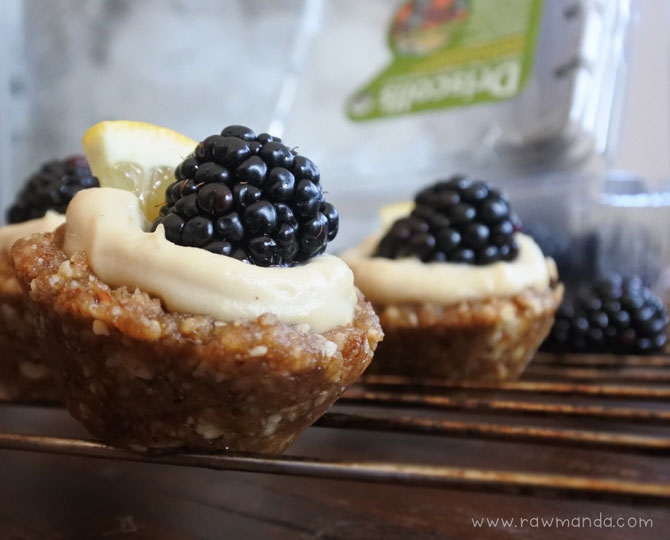 As I mentioned earlier, I love the combination of lemon and blackberries. The rich lemon filling is made by blending a few simple ingredients – cashews, lemon, maple syrup, vanilla and a pinch of salt – into a smooth cashew cream. These flavors pair perfectly with this raw vegan tart crust made from nuts, dates and vanilla. The perfect complement to the lemon filling and nutty crust is a juicy in-season blackberry.
You can enjoy the blackberry lemon tarts immediately for a warm gooey filling but for a cool refreshing treat try putting the tarts in the freezer for a few hours. The frozen version is definitely the way to go on a really hot summer day. Either way, I promise you'll be delighted by the delicious flavors. If you decide to make these tarts don't forget to use the hashtag #rawmanda so I can see your creations and definitely let me know in the comments below what you think of this recipe! Enjoy!

No-Bake Blackberry Lemon Tarts
Ingredients
Crust
1 cup dates
⅓ cup walnuts
⅓ cup cashews
⅓ cup almonds
1 teaspoon vanilla extract
-
Cashew Cream Filling
2 cups raw cashews (soaked for at least 2 hours)
¼ -1/2 cup lemon juice + 1 teaspoon lime zest
⅓ cup maple syrup (or preferred liquid sweetener)
2 teaspoons vanilla
pinch of salt
¼ cup water (adjust according to desired consistency)
-
Topping
1 package Driscoll's Organic Blackberries
Garnish with small lemon wedge
Instructions
Blend crust ingredients in a food processor or high-speed blender until mixture begins to stick together.
Press into a parchment paper-lined mini muffin pan and transfer to the refrigerator while preparing filling.
Blend cashew cream ingredients in a high-speed blender until smooth.
Spoon filling into tart crusts, place 1-2 blackberries on top of each tart.
Enjoy immediately or place in the freezer for a frozen treat.
Store in the refrigerator or freezer depending on the consistency you prefer.