The best way to ensure a healthy week of eating is being prepared ahead of time. Buckwheat tabbouleh is just the thing you need in the fridge to quickly throw into a lunch bag because it makes for such good leftovers! Buckwheat is actually a wheat and gluten-free seed, which you've probably seen in many of my other recipes. I love the texture of buckwheat in this recipe, it's a great substitute for bulgur (or cracked wheat) that is used in typical tabbouleh especially for people who are sensitive to wheat or other grains that contain gluten.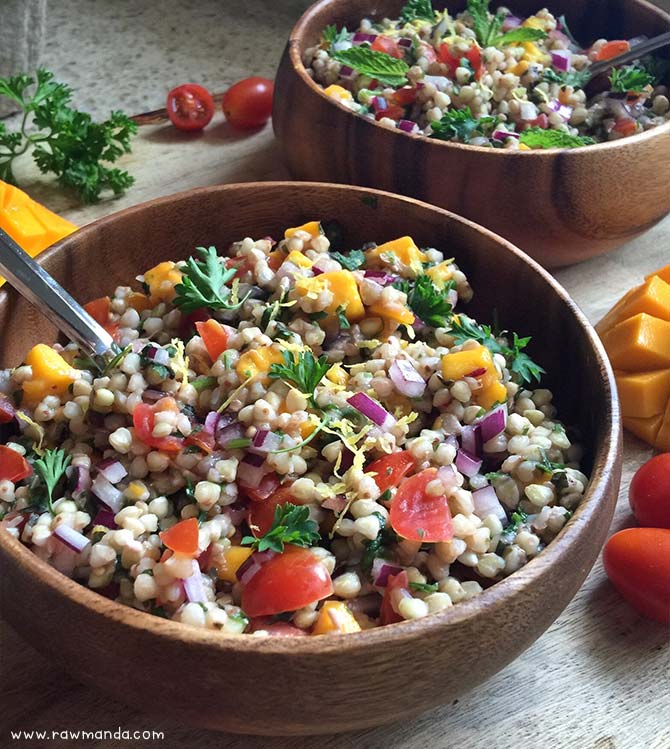 I went on a road trip this past weekend and as much as I love eating fresh ripe fruit, it's not always ideal in every situation for most people. Since Tabbouleh is typically eaten cold, it makes for a perfect meal on the go. The experience inspired to create an easy vegan dish that was helpful for my readers and followers to pack for lunch.
Buckwheat is high in essential nutrients.
It is rich in fiber and many trace minerals, including manganese, magnesium and copper. Buckwheat is also a great source of the B vitamins: B6, folate, pantothenic acid, niacin, thiamin and choline. More information on the energizing and nutritious benefits of buckwheat can be found here.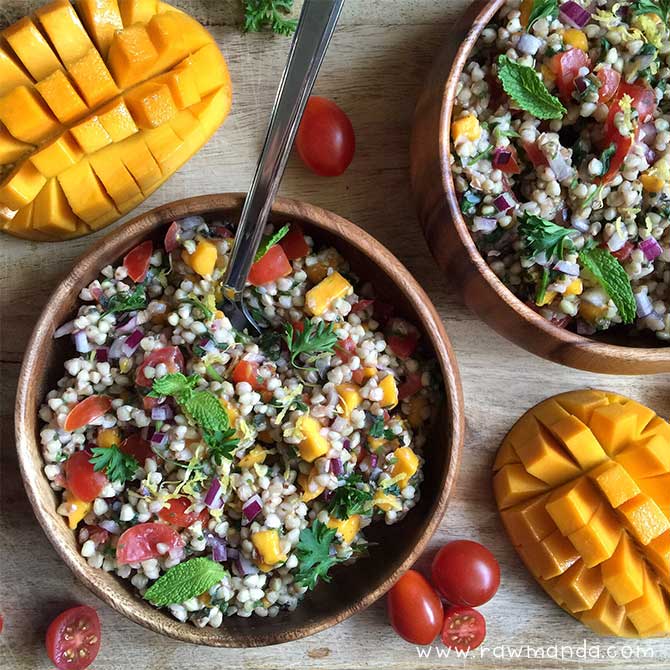 I used yellow mangoes in my tabbouleh instead of cucumbers, because well… I have a mango addiction and had a bunch of ripe ones around.  Feel free to use cucumbers instead.  You could also use chickpeas or add your favorite fruits or veggies.  Don't feel like you HAVE to follow my recipe exactly. Adjust the herbs to your liking – just use what I have as a starting point and make modifications with the ingredients YOU LOVE.  If you love what I've used then go ahead and follow the recipe, I promise it's SO delicious :)

Buckwheat Tabbouleh
This buckwheat tabbouleh recipe is a tasty one for meal prep or as leftovers! Make this ahead of time for your lunch for the week.
Ingredients
1 cup buckwheat groats
1 cup cherry tomatoes, chopped into quarters
1 mango or 1 cucumber, diced
2 large handfuls fresh parsley, chopped fine
1 large handful fresh mint, chopped fine
1 lemon (juiced and grated)
¼ cup red onion or spring onion, chopped fine
2 garlic cloves, minced
1-2 tablespoons olive oil (optional)
salt and pepper to taste
---
Optional "Dressing"
¼ - ½ cup hummus
Instructions
Bring 2 cups of water to a boil on medium heat. Add in the buckwheat and cook for 10 minutes with the lid off, until most of the water is absorbed then turn the heat down to low with the lid on for a few more minutes until all the water is gone and the buckwheat is soft. Fluff the buckwheat up with a fork and set to cool while you prepare everything else.
Add the remaining ingredients to a large bowl, transfer the buckwheat to the bowl and toss well until all ingredients are combined
Optional: Mix in hummus before serving.