Cauliflower rice is so versatile and is the perfect replacement for regular rice for anyone who might be carb-conscious or if you don't feel like waiting an hour for some rice to cook.  Even if you're not too fond of the taste of this veggie, the flavors of this dish mask any traces of cauliflower.  Let your imagination guide you while you prepare this raw fried rice and incorporate your favorite vegetables to the rice.  That's the advantage of creating raw food recipes, they are incredibly flexible and have plenty of wiggle room for modifications!  I love taking my left-overs from the week and throwing them into the mixing bowl in a dish like this!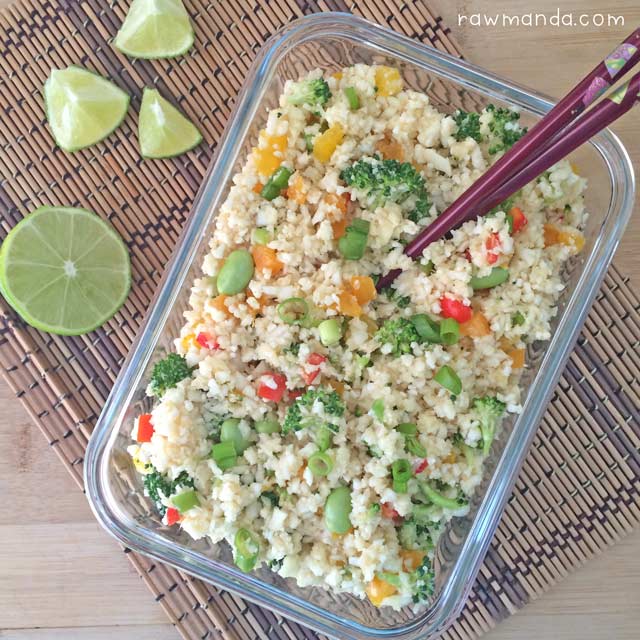 Cauliflower Fried Rice
Ingredients
Fried Rice
1 head of cauliflower
2 cups broccoli, chopped
3 green onion tops
¾ cup bell pepper, chopped
¼ cup edamame
-
Sauce
3 Green onion bulbs (the white part, use green tops for rice)
2 tablespoons raw coconut aminos
1 lime
¼ cup cilantro
1 tablespoon sesame oil
1 tablespoon coconut sugar
1-2 garlic cloves, minced
½ teaspoon ginger
-
Garnish
Sesame seeds
Instructions
Break cauliflower into florets and rinse well.
Chop florets into smaller pieces and place a few handfuls in vitamix/food processor at a time.
Pulse for about 5-10 seconds, if using a blender push down cauliflower with tamper.
Place cauliflower rice in a bowl and stir in remaining rice ingredients.
Blend all sauce ingredients, pour over rice and mix thoroughly.
Let rice sit for at least 30 minutes, stirring occasionally.
Garnish with sesame seeds.
Notes
Substitute or add your favorite veggies like green peas, carrots, corn, etc.