Granola is one of those foods that always hits the spot for me.  Whether it's for breakfast, a snack or as a topping, you really can't go wrong with having some granola around.  The best part is, it's so easy to make! Not only is it easy, granola is probably one of the most versatile things you can make.  I always have bulk food items like rolled oats, seeds, nuts and dried fruits in my pantry so I basically just threw a few of those items together to make this delicious Chunky Chocolate Chia Granola.  Normally I don't measure out my ingredients when I make snacks like this because it's so quick to make and I barely have to think about what I'm doing to get a great result.  Well, this time around I thought about all my readers and took notes so I could share this no-brainer recipe with you today!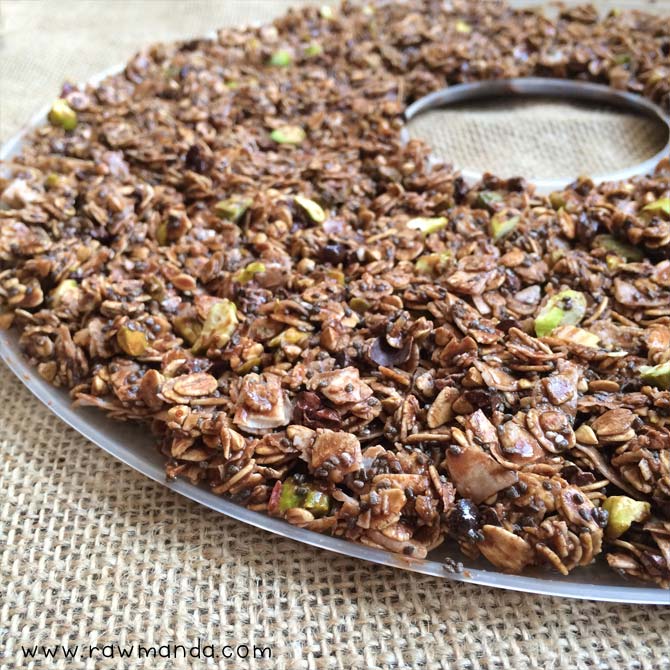 I wanted to make sure that this recipe was successful using a dehydrator as well as an oven, so I tested a batch in both. There was virtually no difference between the two! When I made the granola in the oven I made sure to keep stirring the granola around in large clusters, because who doesn't love chunky clusters of granola?  I was able to break the dehydrated granola in large pieces since I had a huge sheet of granola (no stirring/flipping required using a dehydrator). This was pretty awesome…it was like "granola bark."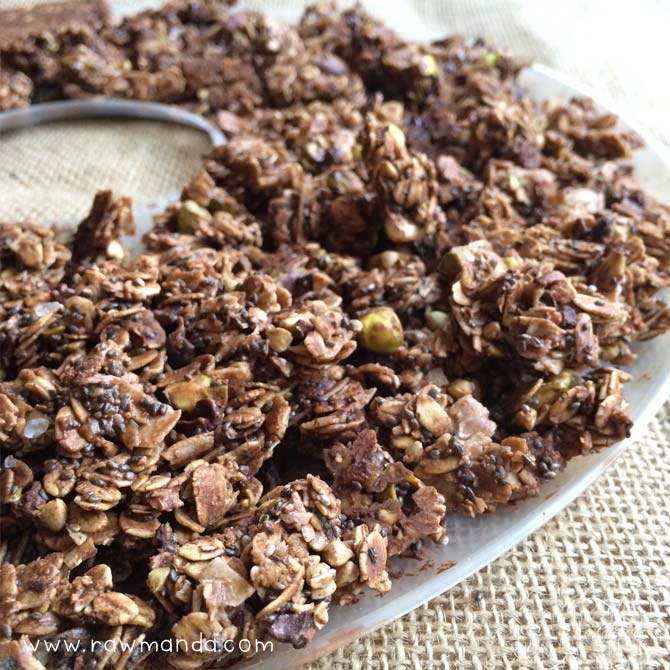 As I've mentioned in some of my other posts, I love dehydrating because there is a minimal loss of nutrients when the dehydrator is set to a temperature of 118F or lower. By using a dehydrator at this temperature, I am able to retain about 90% of the vitamins and minerals in my food, keeping it "alive". When the dehydrator is set to higher temperatures, the food dehydrates faster resulting in more nutrient loss — but keep in mind it's a lot less than what you would lose in a conventional oven, and for that reason I don't think it's terrible if you bump up the temperature of your dehydrator if time isn't on your side. If you're wondering which dehydrator I use, it's the Nesco Snackmaster Pro Food Dehydrator. I love it because it's reasonably priced and gets the job done every time.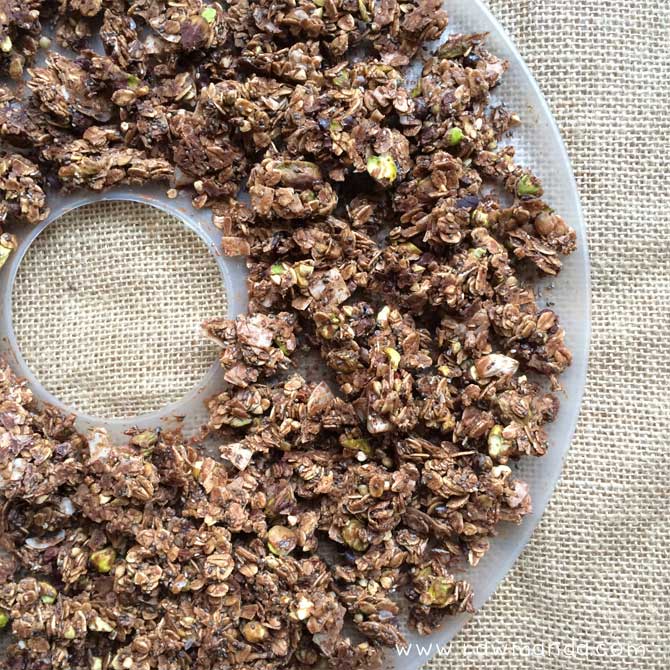 I hope you get a chance to make this easy granola recipe.  Toss it in your dehydrator or oven and enjoy huge crunchy clusters of chocolate granola.  If you don't have the exact same ingredients as I used, don't worry about it!  Simply substitute pistachios for your favorite nut, chocolate chips instead of cacao nibs or hemp seeds instead of chia seeds.  This is one of those recipes that allows you to have the flexibility to use a wide variety of your pantry items and still get yummy snack!

Chocolate Chia Granola
Instructions
In a large bowl, stir together oats, coconut flakes, pistachios, cacao nibs, chia seeds and salt.
In a medium bowl, whisk together the cacao powder, vanilla and maple syrup until smooth.
Pour cacao mixture over the oat mixture and stir until oats are coated. If you like your granola very clumpy, add more maple syrup.
Place granola mixture on a teflex tray and pat down.
Transfer tray to your Dehydrator and dehydrate at 115 F for 10 hours or overnight, until dry.
Break the dried granola into chunks and store in an airtight container.
Notes
If you don't own a dehydrator, bake in an oven at 300F for 30 to 40 minutes, stirring occasionally in chunks, until dry.