I often post decorated smoothie bowls on my Instagram page and realize I need to be a little better about adding these recipes to my blog too.  I use ripe bananas that have been peeled, chopped and frozen in advance as a base for most of my smoothies. I have a banana-based smoothie almost every day so my freezer always has frozen bananas in it, but I know it can seem a bit overwhelming if you don't have a system down yet so at the very least I recommend that you always have frozen bananas stocked up!  I also don't really measure too much anymore, which can be a disaster when I'm trying to carefully tap in a small amount of carob powder from a jar into my smoothie and all of a sudden I'm inhaling a cloud of carob powder smoke after accidentally dumping a huge amount in. Luckily, I made sure to measure out the ingredients in this Chocolate Organic Burst Maca Superfood smoothie bowl so I could share it here today!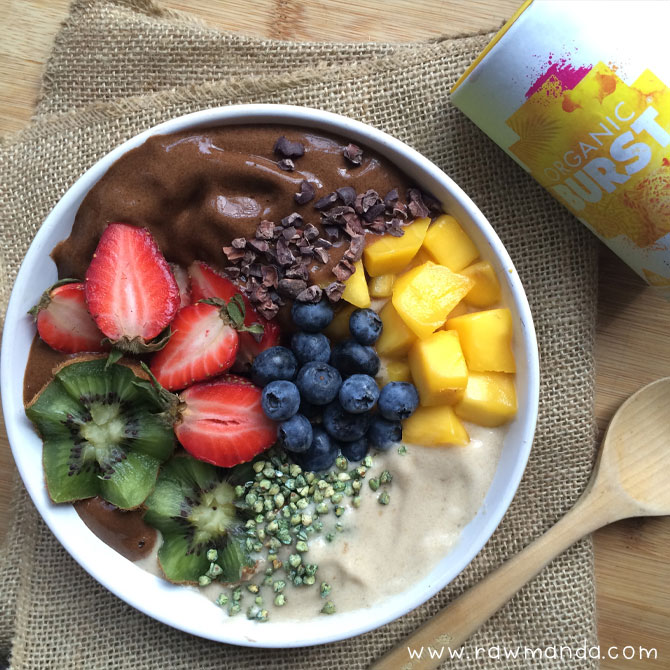 The After adding maca to my Raw Peanut Butter Cookies last week, I decided I was hooked to the energizing superfood and wanted to use it in everything, including my smoothie bowls.  I had been dying to get my hands on some maca powder for a while now, so once I finally did I started adding it to everything!  If you haven't tried this powerful and energizing superfood, I highly recommend that you do!  Maca powder adds a great malty flavor to raw desserts and is also amazing in smoothies, salads, savory dishes, and juices. You should start off with adding small amounts of maca to your diet around 1/2 teaspoon and slowly increase over time.  I love Organic Burst Maca, on their website you can see that the reviews are phenomenal but if you're interested in comparing other brands there are plenty on Amazon as well.
Benefits of Maca (Organic Burst Website)
Strengthens the body and increases stamina. Maca is known as an adaptogen. Maca powder strengthens the body; helps maintain optimal stamina and endurance.
Healthy energy levels. Studies have shown maca acting as a caffeine-free energizer.
Sexual health. In multiple studies maca powder has been shown to boost sexual desire in both men and women without any adverse effects on sex hormones.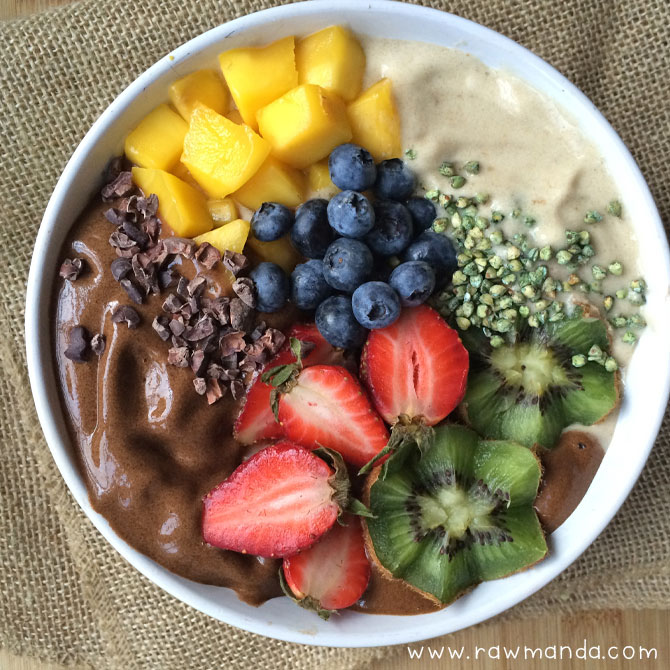 In this smoothie bowl I decided to use carob powder for the chocolate smoothie side, but feel free to use cacao powder for a bold, rich chocolate experience. Carob powder contains no caffeine just like maca powder and has a more mild flavor which is an acquired taste for some people. I like to switch between both carob and cacao, but would like to eventually transition to a completely caffeine free diet.  I gave up coffee a few years ago, very seldom do I ever drink it anymore… I've probably had 2-3 cups in the past year which was all when I was on vacation in Europe so it was part of my travel experience. Anyways, I digress :) I hope you enjoy this smoothie bowl and that it inspires you to give Organic Burst Maca a try!

Chocolate Maca Superfood Smoothie Bowl
Ingredients
Vanilla Smoothie
2-3 frozen bananas
¼ cup almond milk (or non-dairy milk)
1 teaspoon Organic Burst Maca Powder
¼ teaspoon vanilla bean powder (or vanilla extract)


Carob Smoothie
2-3 frozen bananas
¼ cup almond milk (or non-dairy milk)
1-2 tablespoons carob powder (or cacao powder)
1 teaspoon Organic Burst Maca Powder


Toppings
Cacao Nibs
Raw Mountain Spirulina Buckwild
Strawberries
Blueberries
Mango
Kiwi
Instructions
Chop up fruit toppings of choice and set aside.
Add maca smoothie ingredients to a high-speed blender or food processor (pour in less almond milk for a creamier consistency), blend on low and slowly increase speed as bananas break down.
If you are using a vitamix, push bananas down using your tamper as you blend.If you are using a food processor, you may need to stop and scrape bananas down from the sides with a spatula.
Scoop smoothie out into a bowl and place in the freezer.
Add carob smoothie ingredients to blender (pour in less almond milk for a creamier consistency), blend on low and slowly increase speed as bananas break down.
Scoop carob smoothie into bowl next to your vanilla smoothie, add toppings and enjoy immediately!