If you're new to the idea of becoming vegan but love dairy too much to give it up, this post will give you a better idea of why you're better off saying see ya never to cow's milk and hello to cruelty-free options like almond milk. Making the switch to dairy-free milk is the best and easiest way to start a successful health journey in the new year!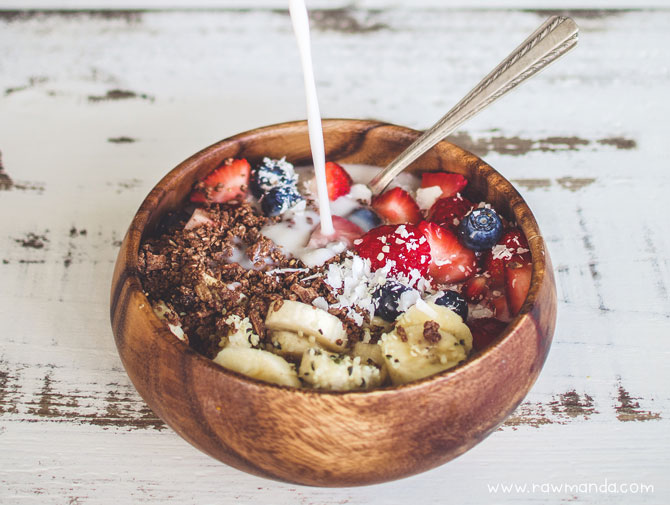 Milk was always a staple in my diet growing up.  I added it to my coffee/tea, poured it over my cereal, baked desserts with it, used it in my oatmeal, and gulped it straight from a glass (even occasionally from the carton).  I never thought twice about where it came from, what was involved with making it or if it was intended for my body.
If your parents are anything like mine, you grew up being told milk was going to make you big and strong. Unfortunately, the dairy industry has done a great job making us believe this is true. You know, all those GOT MILK? ads with glamorous celebrities in milk mustaches?  Oh the power of advertising.
Not Your Mother, Not Your Milk!
Reality Check: Our bodies are not meant to consume cow's milk. We're the only species on this planet that drinks another species milk. It's actually baby calf growth formula. Yes, that may sound odd but not so much when you really think about it.  You drink your mother's breast milk when you're a baby. Calfs drink their mother's milk when they're babies. Here's the catch, calfs grow to be 1,500 pounds. Last time I checked, humans don't grow to be that big. Maybe that's why so many people like myself who quit dairy stop experiencing digestive problems amongst other health issues.
So if that's not enough to convince you. How do you feel about the exploitation of cows by the dairy industry?  They're forcibly impregnated only to have their babies taken away from them shortly after giving birth. Cows produce milk just like our own mothers do when they have children. Unfortunately, it was decided that we have the right to rip their children away from them to soon be slaughtered (veal) or exploited just like their mothers.

Making the Switch
When I began making my health a priority and paid more attention to what I was eating, the easiest transition was my switch from cow's milk to dairy-free milk. I added it to my coffee/tea, baked with it, poured it on cereal and drank it straight just like did with cow's milk.
The availability of dairy-free milk in basically every grocery store makes it easily accessible.  Here are some of the types I've tried and recommend:
Almond milk
Cashew milk
Coconut milk
Rice milk
Soy milk
Hemp milk
Oat milk
Almond-coconut milk
Flax milk
Almond-cashew milk
My favorite dairy-free alternatives to cow's milk are almond milk, cashew milk and coconut milk. Almond milk is packed full of nutrients but is usually low in protein. I've just recently discovered Silk Protein Nutmilk which contains 10 grams of plant-based pea protein per serving. Combined with cashews, it has more of a robust and creamy texture than regular almond milk. The creaminess helps the almond milk blend way better in your coffee too!
What's your favorite dairy-free milk? Do you have a favorite way of using it?
I personally love blending it in my smoothies and nice cream!
This is a sponsored conversation written by me on behalf of Silk. The opinions and text are all mine.