Happy Black Friday! Instead of waking up at the crack of dawn this morning to catch all the sales at the mall today, I'm sitting here at my desk blogging about my latest recipe.  Oh how my priorities have changed! Now that Thanksgiving is over I have time to share my dehydrated stuffing recipe. This was my first vegan Thanksgiving ever and also the first time I didn't feel miserably full after my meal. Not surprisingly, there were uncomfortable groans from every single person sitting around the table after dinner was finished. In that moment I realized how thankful I was for finding this lifestyle.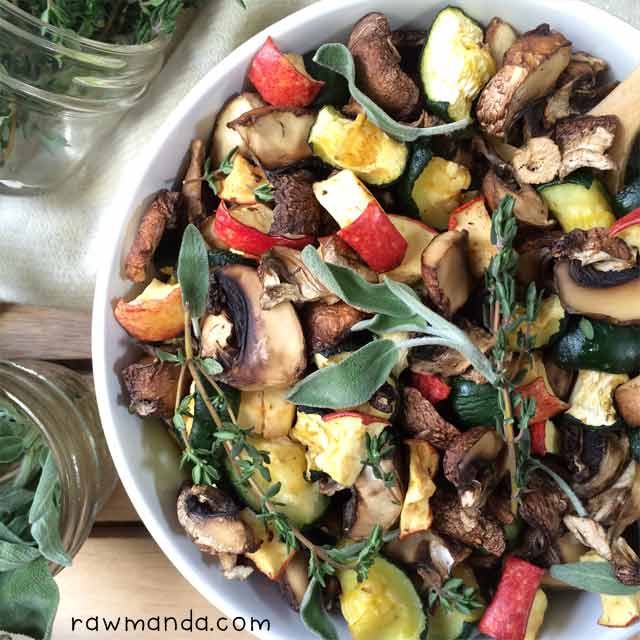 I was struggling to come up a healthy dish to bring to my family feast.  Most Thanksgiving food is not vegan friendly nor is it remotely healthy. Even a simple dish like stuffing is generally loaded with butter, cooked with beef or chicken stock and then served with some sort of meat-heavy gravy on the side. That description will probably make most people's mouth water which is not the case for me, instead the thought is very unappetizing.
I LOVE stuffing, and wanted to come up with a raw vegan version that would still satisfy my craving for tasty, crispy, savory, warm stuffing. Eating bread used to make me tired and mentally foggy, so using veggies like mushrooms and zucchini instead was a clear-brainer for me! Mushrooms work great in the dehydrator and the flavor plays well with the garlic, sage, and thyme for a true Thanksgiving side dish.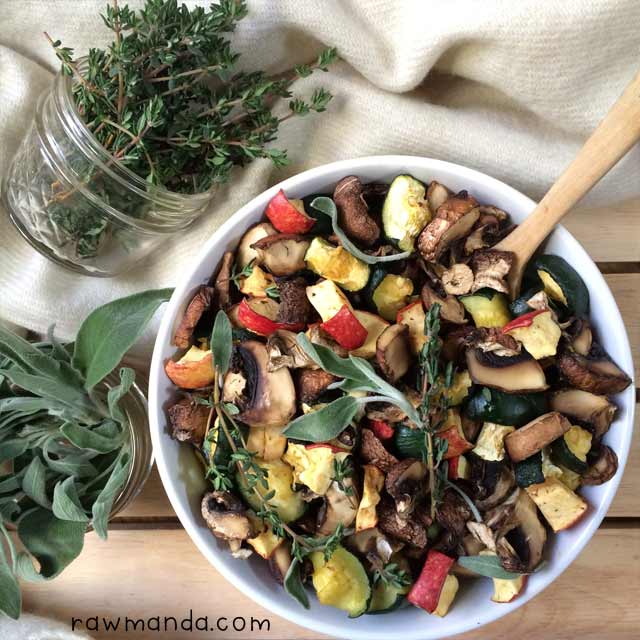 I left the stuffing in the dehydrator over-night (about 12 hours) and the mushrooms were crisp on the outside and still juicy on the inside. The zucchini will shrink down, but not as much as the other ingredients so feel free to play around with my recipe and cut the chunks smaller if you want to. Gala apples are my favorite, so I threw some into this recipe.  If you don't want the sweetness of a red apple, try out a sour green one.
I really wasn't sure how well this would turn out, but I will definitely be making this for Christmas as well!  I used raisins the first time around, but I didn't like the way they tasted with the sage and thyme. Cranberries might work well, I haven't tried using them yet but it's something I'll consider for the next time I make this recipe.  I encourage you to play around with different combinations of your favorite veggies and let me know how it turns out in the comments section!

Dehydrated Mushroom Zucchini Stuffing
Ingredients
5 cups mushrooms, chopped - I used cremini mushrooms since they were on sale, and cut them into ½ inch cubes.
3 cups zucchini, chopped into ¼ inch cubes.
2 apples, chopped into ¼ inch cubes.
3 celery sticks, chopped into ¼ inch pieces
3 teaspoons garlic, minced
2-3 teaspoons fresh thyme, for dried thyme double this amount
10 fresh sage leaves, for dried sage use 1.5 tablespoons
1 tablespoon coconut oil
Instructions
Combine all ingredients in a large bowl and stir until the oil and spices are mixed well.
Spoon mixture onto a dehydrator sheet and place in the dehydrator for 8-12 hours at 105 degrees, depending on how moist or crispy you want your stuffing. I certainly reached in and tested out a few pieces every hour!
If you haven't had the chance to check out my
Pumpkin Pie Tarts
recipe, it's a great one for the holidays! The whole family enjoyed them this year and couldn't believe how delicious a healthy dessert could really be. Desserts are the best way in my opinion to introduce raw vegan recipes to people.  My parents enjoyed them so much that they already had the tarts for breakfast this morning.