With summer right around the corner, I thought it would be appropriate to purchase my own popsicle molds. The possibilities are endless and I can't wait to make tons of popsicle recipes to share on my blog. My first project with my newest kitchen gadget: dairy-free fudgesicles! Nothing beats smooth, creamy and chocolatey love on a stick. I used to always have these in my freezer as a kid growing up and well, even as an adult. In my opinion, it's the prefect treat to satisfy a chocolate and ice cream craving.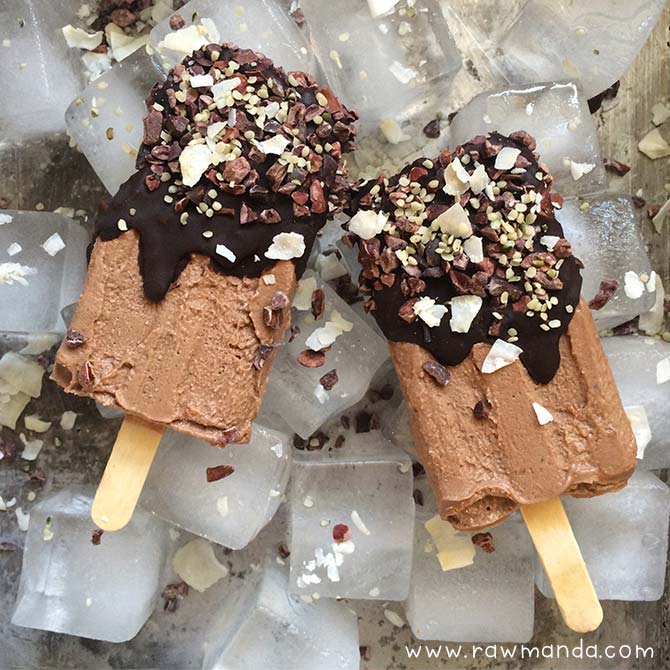 When I look back at processed snacks I used to enjoy, I am just blown away by how little I was aware of ingredients. When I began to really take what I was eating seriously, I started reading labels and ingredients. I think that is one of the most valuable habits everyone should make. Awareness is key. If you want to eat something unhealthy, that's your choice – the least you can do for yourself is acknowledge what's in it.
Unfortunately, your typical fudgesicle does not contain the healthiest of ingredients let alone recognizable ones!
Ingredients: nonfat milk, sugar, corn syrup, whey, high fructose corn syrup, water, palm oil, cocoa processed with alkali, tricalcium phosphate, mono & diglycerides, cellulose gum, guar gum, malt powder, salt, polysorbate 80, polysorbate 65, carrageenan
So with these ingredients in mind, it's probably best to enjoy a healthier alternative that's quick and easy to make – oh and most importantly, vegan.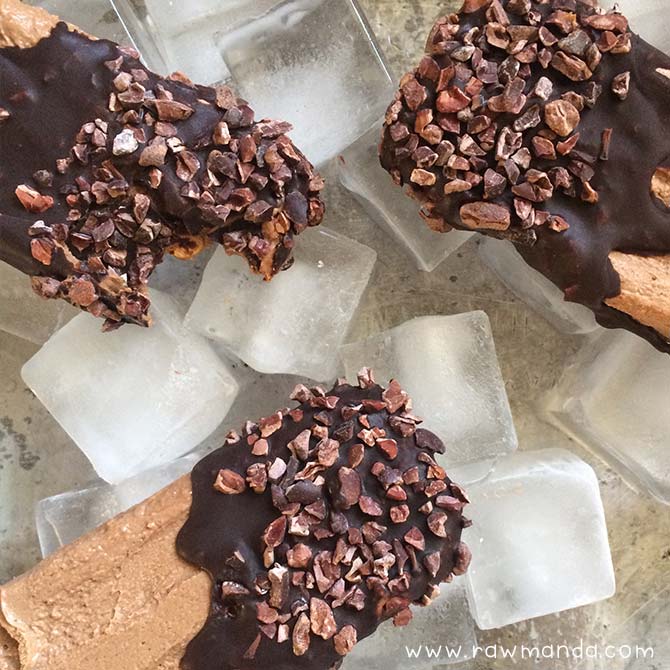 I've purchased a few popsicle molds and well to be honest, most of them have been major fails. After many disappointing attempts to make popsicles, I finally found the best ones! Check out the popsicle molds I recommend here on Amazon.
Not only are these dairy-free fudgesicles satisfying, the recipe only calls for healthy whole food ingredients that you recognize and are familiar with. Also, don't be afraid to experiment!  When you're only using quality ingredients, you're bound to get great tasty results. I think adding almond butter might be a really good idea! If you're planning to give this recipe a try, please make sure to comment below – I'd love to know how they turn out for you!  You can also tag me on Instagram and use the hashtag #rawmanda for a chance to be featured.

Healthy Homemade Chocolate Fudgesicles + Superfood Sprinkles
Healthy homemade fudgesicles dipped in raw vegan chocolate and covered in superfood sprinkles. Take a bite into this creamy dessert to cool down in the summer and satisfy your sweet tooth.
Instructions
Place all ingredients in a high-speed blender and blend until mixture is smooth.
Pour mixture into popsicle molds and add sticks. Optional: Spray or lightly coat popsicle molds with coconut oil to help remove fudgesicles.
Transfer to freezer and freeze until firm, at least 4 hours or overnight.
Remove popsicles and place in freezer on a parchment lined baking sheet while you prepare the melted chocolate. If you are having trouble removing your fudgesicles, place popsicle molds in a large bowl of warm water for a few minutes.
Melt chocolate chips with 2 tablespoons of coconut oil - using method of choice: dehydrator, microwave or double boiler.
Dip fudgesicles in melted chocolate and place back on to parchment lined baking sheet, then sprinkle toppings of your choice!