I've seen kelp noodles on a few raw restaurant menus and have grown extremely fond of their unique texture and their adaptability in many different dishes.  Kelp noodles are a sea vegetable that are raw and ready to eat with no cooking required. They're incredibly versatile and are my new favorite food to experiment with!
Kelp noodles are gluten-free, fat-free and low in calories so they are acceptable for almost every diet or lifestyle. Talk about a home run!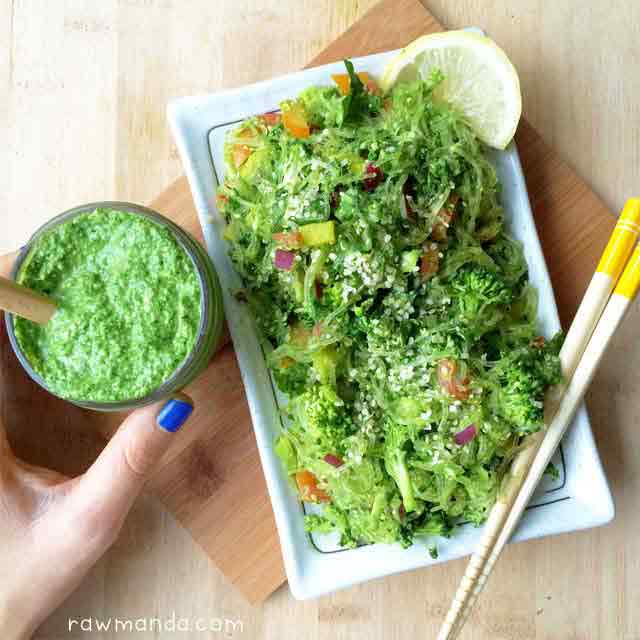 I decided to look for these noodles on my last trip to the grocery store and boy was I beyond thrilled to see them.  They were in the refrigerated section of the store next to the tofu. I grabbed two packages of Sea Tangle kelp noodles with a huge smile on my face and the wheels in my head started to turn.  It's things that like this that make me really happy these days.
If you don't have luck finding them in your grocery store, I found the same brand on Amazon.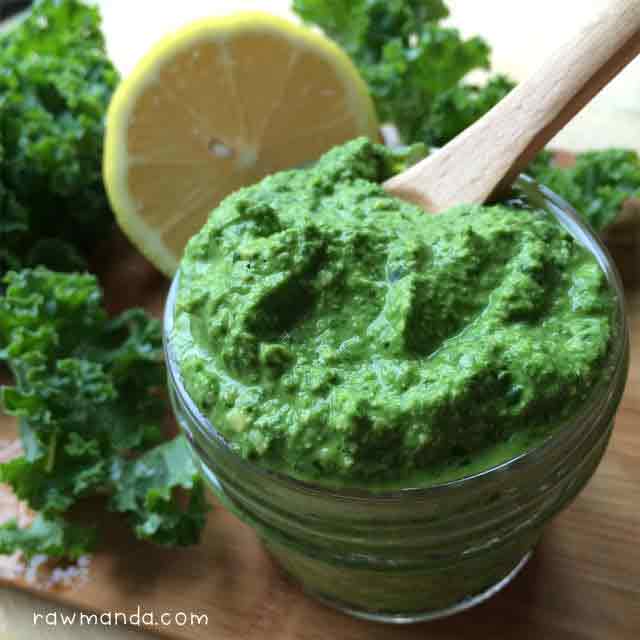 For my first kelp noodle experiment, I decided to try it with garlic kale pesto.  Since kale was on sale, I had tons of it in my fridge and I remembered seeing a kelp noodle pesto dish on a raw restaurant menu, but regretfully passed on trying it out.
Why has it taken me this long to make kale pesto!? I'm in love! Not only is it the perfect pasta sauce, it's delicious as a dip.  I was wiping the blender clean with broccoli making sure not one spot of pesto went to waste.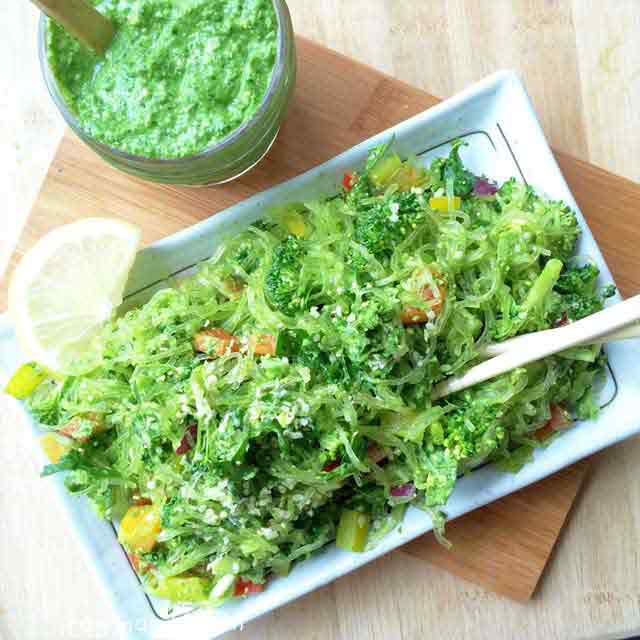 So whether or not you have kelp noodles around, just try whipping up this garlic kale pesto and enjoy it as a spread, dip or sauce – you wont regret it!
Let me know in the comments below if you're planning to or if  you've tried out this recipe. If you're on Instagram, make sure to tag @raw_manda and #rawmanda in the caption so I can see your creations!

Kelp Noodles + Garlic Kale Pesto
Ingredients
2 packages kelp noodles
2 cups broccoli, chopped
2 cups kale finely chopped
½ lemon, juiced
-
Garlic Kale Pesto
2 cups kale
2 cups spinach
3 green onion bulbs (just the white part)
1 lemon, juiced
⅓ cup cashews
¼ cup water
2 teaspoons minced garlic
Instructions
Rinse kelp noodles in warm water then place into a large mixing bowl.
Add broccoli, kale and other veggies of choice to the mixing bowl.
Massage lemon juice into mixing bowl so that everything is covered well. I like to use my hands!
Place ingredients for pesto in a high-speed blender or food processor and blend until you get a smooth creamy consistency.
Pour desired pesto into the mixing bowl, mix into noodles and veggies very well.
If you have left over pesto, store in an air-tight container in the refrigerator for a few days.