Oh Thai food, you are my weakness. I'm a Thai food fanatic, I enjoy the spicy sweet flavors that pack a punch with every bite.  There are so many dishes I enjoy but nothing beats the love I have for a quality Pad Thai. This is the dish that will tell you whether or not a restaurant knows what they're doing, it's the ultimate staple for any Thai restaurant!
Unfortunately, many of my favorite dishes are rich & creamy from saturated fats like coconut milk, not to mention extremely high in sodium from non-vegan ingredients like fish sauce and shrimp paste.  So I thought it was time to take matters into my own hands.  I was determined to clean up this dish and create a low-fat, low-sodium raw vegan version of my favorite Thai dish.  The only equipment you'll need is a spiralizer
to create the noodles.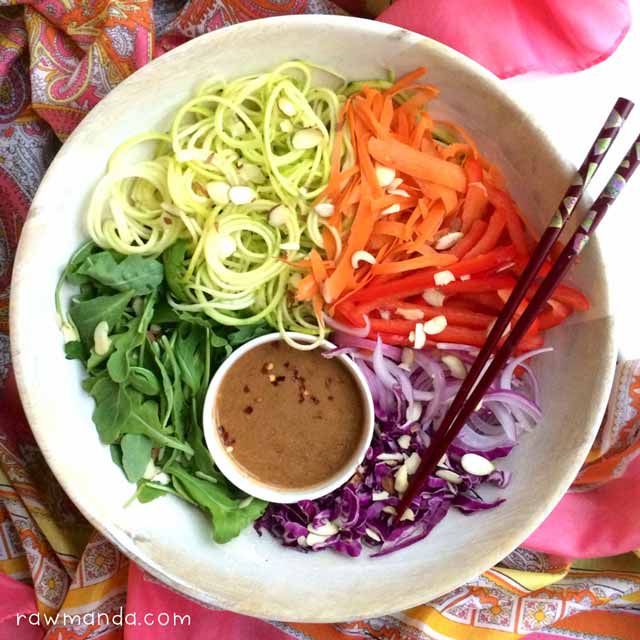 This is also the perfect lunch recipe to prepare ahead of time and take with you the next day!  The ingredients will combine overnight giving you even more delicious flavors to enjoy. Double up the ingredients and you have yourself a delicious dinner and left-overs for lunch.

Pad Thai + Almond Butter Dipping Sauce
Ingredients
2 zucchinis, spiralized
2 carrots, finely sliced
½ bell pepper, finely chopped
¼ red (or green) onion, chopped
½ cup cabbage, shredded
1 tbsp sliced almonds
-
Sauce
½ lime (juice)
1-2 tbsp raw almond butter
1 tbsp raw coconut aminos
1 tbsp coconut sugar
2-4 tbsp water (more water will give you thinner consistency)
1 tsp garlic, minced
¼ tsp ginger root, grated
Pinch chili flakes
Instructions
Place prepared veggies in a bowl.
Whisk sauce ingredients, pour over veggies and mix.
Let sauce flavors blend by letting the dish sit for 30 or more minutes.
Sprinkle sliced almonds and enjoy!