Earlier this month I posted a product review for two seasoning sauces that I have been using on a regular basis, Coconut Aminos and Coconut Vinegar. I'm excited to share with you two of Coconut Secret's newest products, Garlic Sauce and Teriyaki Sauce. These savory sauces are created with high quality spices and Coconut Secret's Coconut Aminos, which I use in many of my recipes as a raw low-sodium alternative to soy sauce.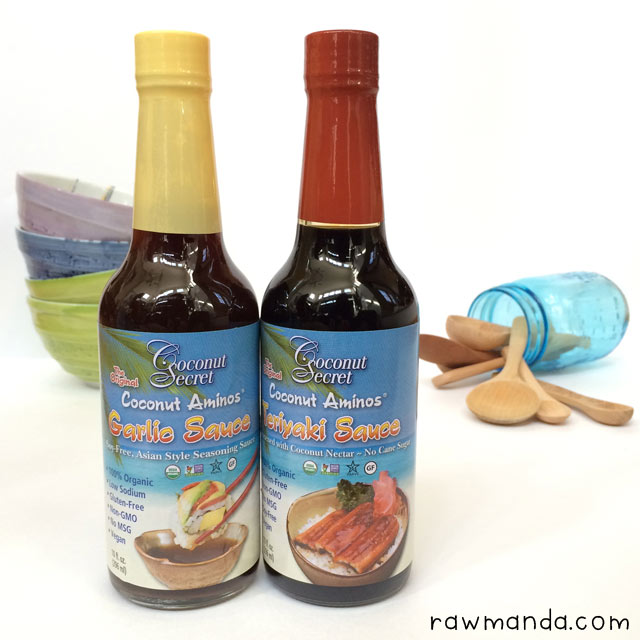 Coconut Aminos is made from coconut tree sap that comes directly from the tree. The coconut tree sap is blended with their own sun dried mineral-rich sea salt. This nutrient dense sauce contains 17 naturally occurring amino acids, minerals, vitamin C and broad-spectrum B vitamins. I have always found the taste of conventional soy sauce to be overwhelmingly salty, even low-sodium options, so discovering Coconut Aminos was perfect for me.
As are all of Coconut Secret's other products the Garlic Sauce and Teriyaki Sauce are certified 100% organic, gluten-free, soy-free, dairy-free, vegan and non-GMO. Yes, I know that was a mouthful to list off but that's how complicated our foods have gotten. Regular soy sauce found in grocery stores and restaurants often contain non-organic, genetically modified soybeans. Coconut Secret takes pride in using unprocessed pure ingredients.
Coconut Secret's Garlic Sauce is made using their Coconut Aminos infused with garlic and spices. The garlic flavor in this sauce isn't overwhelming at all, which is what I was a little afraid of at first. I think the flavors are wonderful and can be incorporated into many savory dishes. Seeing cayenne pepper in the ingredients also made me think the sauce might be spicy but it's not spicy, the cayenne just adds nice flavoring to the sauce.
I've enjoyed experimenting with the Garlic Sauce to add subtle garlic flavors in my recipes. It's perfect for dressings, marinades, dipping sauces, and sautés.
100% Organic Ingredients
Organic Coconut Sap,  Garlic, Sea Salt, Ginger, Cayenne Pepper
Coconut Secret has created a hassle-free way to marinate veggies with a flavorful and nutrient-dense seasoning sauce that is made completely from raw organic ingredients. Using their Teriyaki Sauce is the perfect way to elevate dishes with Asian flavors. There's no reason to compromise your health with conventional teriyaki sauces that contain processed ingredients and that are high in sodium.
I've been using the Teriyaki Sauce in my vegan meatballs and burgers quite frequently. I can't wait to try creating some more savory dishes and not have to go to great lengths to create seasonings for them. This sauce is also perfect for dressings, marinades, dipping sauces and sautés.
100 % Organic Ingredients
Organic Coconut Sap, Sea Salt, Ginger, Onion, Garlic, Cayenne Pepper
You can find Coconut Secret's Garlic Sauce and Teriyaki Sauce at your local health food store or purchase it conveniently online through Amazon.
Expect more recipes that include Garlic Sauce and Teriyaki Sauce from me. I can't get enough of these products; they make raw foods exciting, flavorful and naturally delicious. Watch this space for my teriyaki meatballs and burgers recipe coming soon!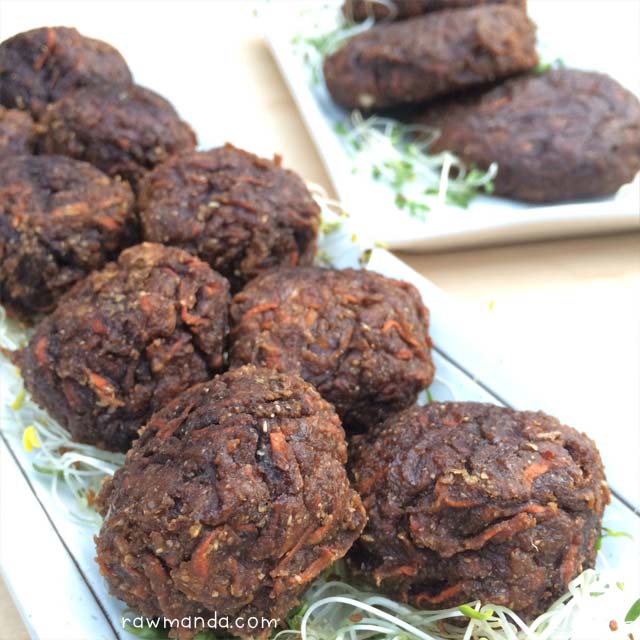 Disclosure: Coconut Secret provided me with sample products, but as always, all opinions are my own. I was using their coconut aminos in my recipes long before I received any sample products.