Since using kelp noodles for the first time in my kale pesto recipe, I've officially become hooked on them. They're a healthy raw substitute for pasta and hassle-free in every way possible. Kelp noodles take cooking out of the equation. Just rinse and the noodles are ready to eat. Yes, I know it's hard to believe eating raw is that easy but it really is! I was excited to use them in this raw rainbow noodle bowl with some amazing thai peanut dipping sauce.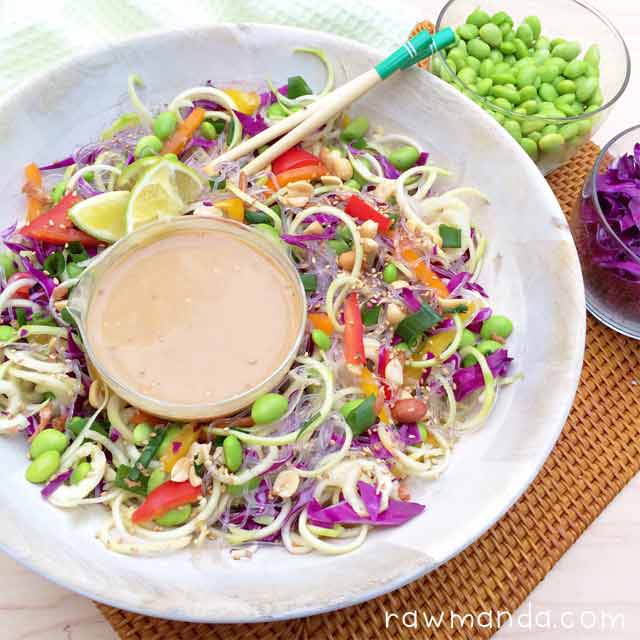 Kelp noodles have a neutral taste that makes it a versatile ingredient that can be used in a wide variety of dishes. These mineral-rich noodles contain a good source of iodine, which kelp is well known for.
I was eyeing a new package of Gold Mine Naturals kelp noodles in my refrigerator and thought about how I needed to come up with the perfect peanut sauce to go with them. As always, I wanted to create a low sodium sauce made with simple raw organic ingredients.
This dish was made with 100% raw ingredients including coconut aminos and coconut vinegar. Since some of my readers may not be aware of what these two products are, I wanted to mention my recent review on Coconut Secret's coconut aminos and coconut vinegar.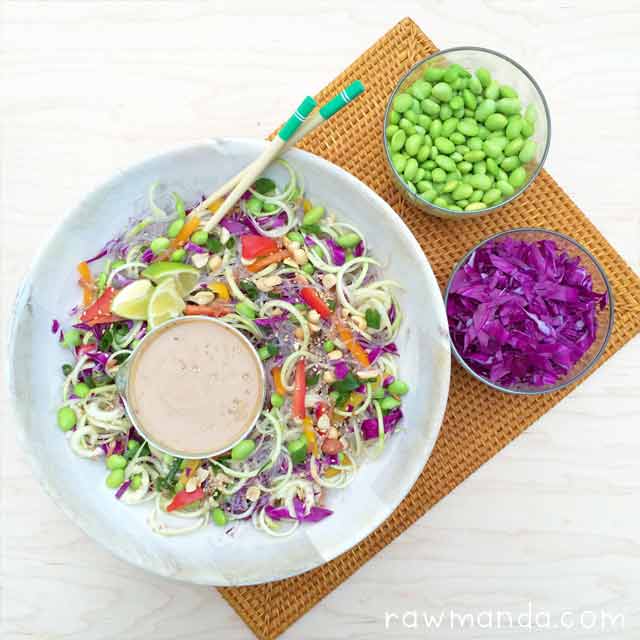 The amazing part about creating recipes like this peanut sauce is that I can make a big batch ahead of time and use it in my dishes throughout the week. It also gives me one less thing to do when I get home from work. I seem to be a lot less motivated to spend time making dinner now that it's darker in the evening when I get home thanks to daylight savings time.
If you're a fan of creamy sauces infused with delicious Thai flavors, then this easy recipe is perfect for you! You can easily add a few tablespoons of water while you're whisking the sauce to thin it out a little more.
Also, don't forget to read the label of your peanut butter! Make sure the ingredients section only contains peanuts. There's no reason for any extra additives in your nut butters, I find the raw options to be the tastiest anyways. In this recipe I use Once Again 100% organic creamy raw peanut butter – no salt added.

Rainbow Noodle Bowl + Thai Peanut Sauce
Ingredients
Thai Peanut Sauce
¼ cup water
1 lime, juice of
3 tablespoon raw peanut butter
2 tablespoon date paste or other liquid sweetener
1 tablespoon coconut aminos
1 tbsp coconut vinegar
1 teaspoon minced garlic
1 teaspoon ginger
½ teaspoon red chili flakes
--
Rainbow Noodle Bowl
1 package 16 oz. Gold Mine Naturals kelp noodles
2 zucchinis, spiralized
1 teaspoon sesame seeds
2 tablespoons peanuts
Mixed veggies of choice
Instructions
Add all ingredients for the sauce in a bowl and whisk together.
Rinse kelp noodles and mix with spiralized zucchini in a large mixing bowl.
Chop up your favorite veggies and add to the mixing bowl. I used edamame, bell peppers, purple cabbage and green onions.
Pour sauce over noodles and mix well.
Let the sauce marinate for 10 minutes or longer, stirring occasionally.
When you're ready to eat, sprinkle sesame seeds and peanuts.
Notes
Substitutes:
- date paste with maple syrup
- coconut aminos with low-sodium tamari
- coconut vinegar with rice vinegar