It's berry season and nothing beats fresh, organic berries in the summertime!  If you've been following me for a while now, you know that I absolutely love using berries in my recipes.  Berries inspire me to get creative and this should come as no surprise since they are simply stunning! I partnered up with Driscoll's Berries for this raspberry chia jam recipe as a part of their summer My Moments Food Art Program, #pictureperfectplate.
I often walk around the farmer's market and see stands with yummy looking jams, but hesitate to purchase any when I see sugar as the number one ingredient.  Shouldn't berries be the number one ingredient? As with most things, I prefer to make it myself so I know exactly how much of each ingredient is used.  You can prepare your very own without having to do very much work at all, and that's what I decided to do with this raw vegan homemade raspberry chia jam.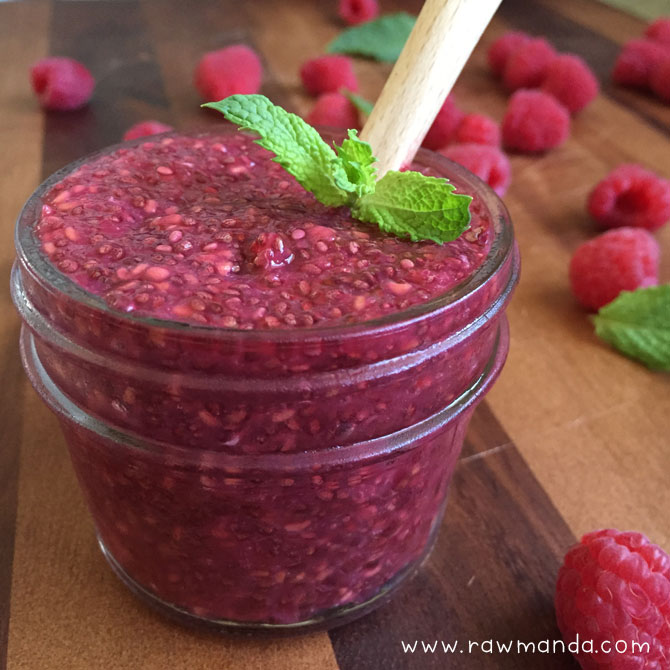 This recipe allowed me to reconnect with my childhood by recreating one of my favorite foods as a kid but with a healthy twist.  Store bought jellies were a staple in my diet growing up and I'm sure you also grew up on PB+J sandwiches like I did.  What many people might not pay attention to are the ingredients you're using when you spread store bought jam over your peanut butter because most brands contain artificial preservatives and refined sugars.
What makes this raspberry chia jam special is that there's no simmering or special techniques necessary. It's completely raw, vegan, gluten-free, pectin-free and best of all super easy to make. The chia seeds bind together and gel into the perfect consistency for jam. Combine this with fresh summer raspberries with a tiny bit of sweetener and you're in for a real treat.  You can use any liquid sweetener you like (coconut nectar, agave, maple syrup, honey, etc.) and also feel free to add a little bit more that my suggested amount if you like your jam on the sweeter side.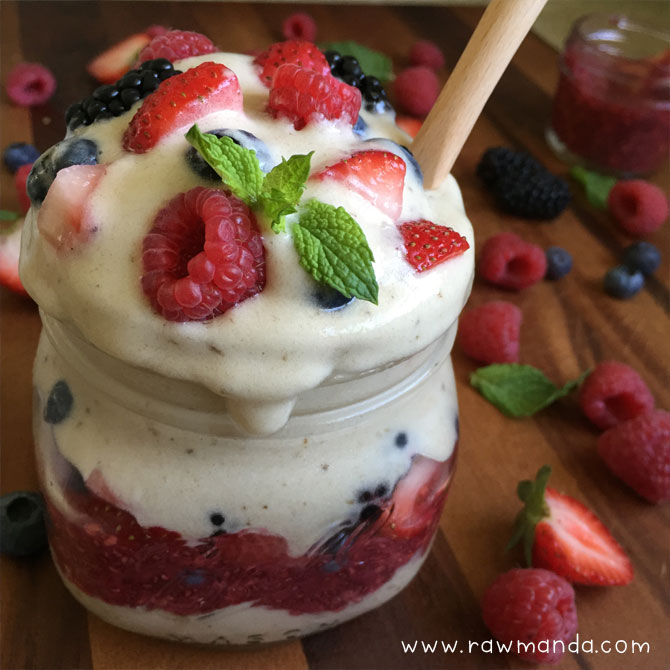 This raspberry chia jam inspired me to create a smoothie parfait layered with almond butter "nice" cream, chia jam and berries.  Basically it's my twist on a PB&J smoothie parfait!  Don't feel obligated to use raspberries for your chia jam.  The recipe can easily be modified using your favorite berry.  Any variety will work and still taste amazing!
Make sure to let me know in the comments below what you think of this recipe.  I'd love to hear your feedback and see how you use this homemade jam.  If you're a berry lover just like me, head over to the Driscoll's #pictureperfectplate sweepstakes page and create your own berry art for a chance to win a new Nikon DSLR camera or berries for an entire year!

Raspberry Chia Jam Smoothie Parfait
Ingredients
Raspberry Chia Jam
2 cups Driscoll's raspberries
2 tablespoons maple syrup
2 tablespoons water
2 tablespoons chia seeds
1 teaspoon lemon juice
-
Almond Butter Smoothie
3-4 frozen bananas
2-3 tablespoons almond butter
splash of almond milk, as needed
-
Toppings
2 cups Driscoll's blueberries, blackberries, raspberries and strawberries (chopped)
Instructions
Blend all ingredients except for the chia seeds in a blender until smooth. Pour mixture into a bowl and stir in chia seeds. Transfer to the refrigerator for at least an hour.
Add frozen bananas to a high-speed blender or food processor. If using a blender, continue to push down the bananas with your tamper.
Add in almond butter and blend until evenly distributed throughout the ice cream. Pour in a splash of almond milk if you are having trouble blending.
Scoop out half of the smoothie mixture into a jar.
Spread 2 tablespoons of the raspberry chia jam over top and add a cup of berries over the jam.
Scoop the remaining smoothie from the blender into the jar and top with remaining berries.
Notes
Substitute your favorite liquid sweeteners such as coconut nectar, agave, honey, etc.
Substitute your favorite berry in place of the raspberries for the jam.