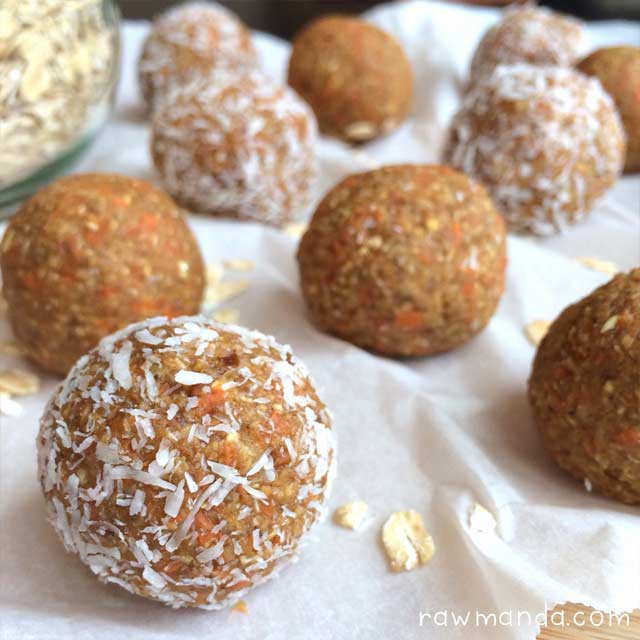 Carrots are one of the veggies I really miss eating cooked. I have a hard time eating them raw but I'm working on it! Carrot cake has been on my list of raw desserts to make and I finally had time to create the perfect low fat raw recipe!! When I searched online for recipes.. a ton of high fat recipes popped up, womp womp.
I'm not a fan of most raw dessert recipes that are made up of 80% – 90% fats like nuts/seeds/oils. To me that's crazy! Although they are considered "healthy" fats, there's nothing healthy about eating raw desserts that are made up that much fat. I'm totally a fan of desserts you can eat in abundance – and won't feel bad eating more than 1…. or 10 servings.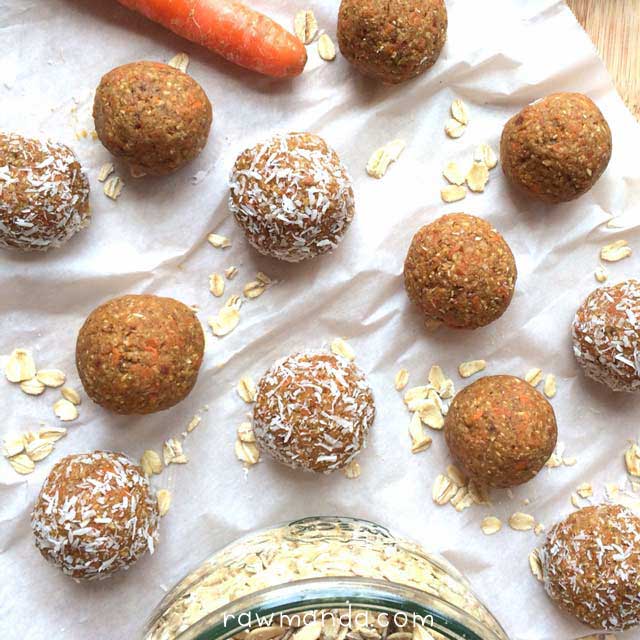 Now that I've created a recipe that makes eating raw carrots enjoyable, I have a feeling that I will be making these carrot cake bites quite often. The bites are perfect for topping on a smoothie bowl, but even more amazing blended into a smoothie so you get chunks of carrot cake in there.
Let me know in the comments if you try my recipes, I would love to hear about what you think!

Raw Carrot Cake Bites
Ingredients
¾ - 1 cup gluten free rolled oats
½ - ¾ cup finely shredded carrots (I used a peeler)
½ cup dried mulberries (or raisins)
7 medjool dates
¼ cup water
1 tsp vanilla extract
1 tsp cinnamon
½ tsp nutmeg
¼ tsp ground cloves OR ginger, whatever you prefer!
Instructions
Blend oats in vitamix (food processor should work too) until you get a fine consistency like flour.
Add in dried mulberries, pulse a few times to break them up then add carrots, vanilla and spices.
Slowly add in dates and water. If you're patient (unlike me!) you can soak dates ahead of time for easier blending!
Roll dough into balls and cover in shredded coconut if you want. I wet my hands to make it easier to manage the the dough, it's very sticky!
Freeze for 2 hours and enjoy!