Gingerbread cookies are one of my all time favorite holiday treats and with Christmas less than two weeks away, I've been determined to create a simple raw, vegan and gluten-free recipe. Gingerbread spices have such a special place in my heart, they bring me to a happy place flooded with holiday memories like building gingerbread houses in elementary school using milk cartons and lunch trays. Did anyone else do this too? It's so amazing how different spices, foods and flavors can so quickly connect you to vivid moments from your past. Unfortunately, those gingerbread houses were loaded with refined sugars and processed candies but that was in the past, right?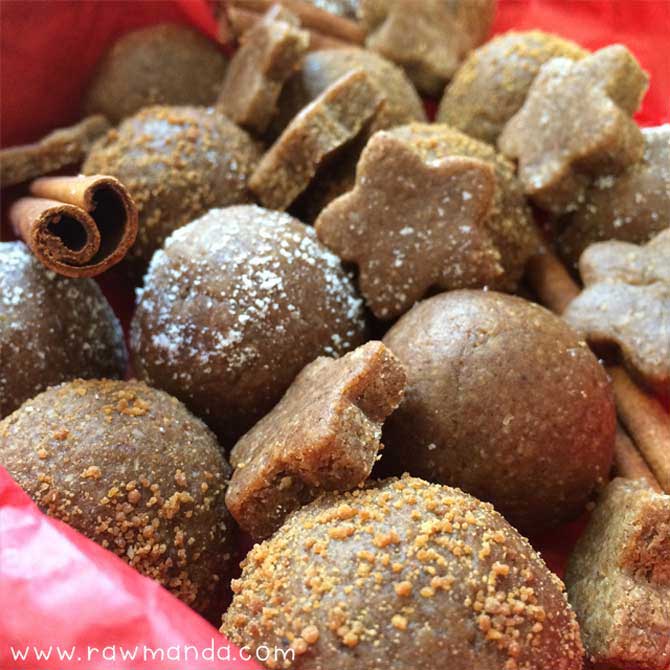 This gingerbread cookie dough is flavorful with a super moist and chewy center. Gingerbread recipes often require eggs, butter and molasses but I found that none of those ingredients were needed to re-create a raw, cruelty-free version.  I used soft khadrawy dates that have a molasses flavor to them, but any variety will work for this recipe.  Just make sure they are soft.  You can soak them in warm water at least an hour before blending.
I ended up making gingerbread cookie "balls" since I didn't have any gingerbread-men cookie cutters around.  I was able to make mini cookies with small star-shaped cookie cutters and I've been snacking those like a mad woman!
I experimented with putting the cookie balls in the oven since I know my parents love warm desserts, but the texture was really crumbly so I don't recommend doing this.  I try my best to experiment and give options for my recipes but for these I definitely suggest enjoying them fully raw. The warm gingerbread spices really sing in the recipe when eaten raw and I'm just so in love with the smooth texture that there's really no need for any baking. A better option would be using a dehydrator!  I put a few balls in the dehydrator at 115F for 2 hours which made them warm, delicious and extra chewy. You can find the dehydrator I use on Amazon.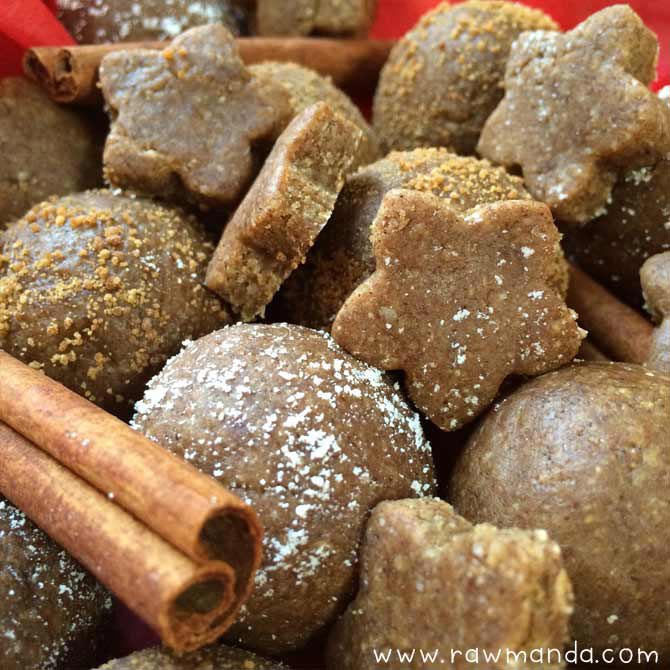 Enjoy this delicious gingerbread with a tall glass of cold almond milk or a warm cup of tea, either way you must give this recipe a try. I can't wait to top my smoothie bowls and ice cream with yummy gingerbread bites. I certainly have no plans to make this an exclusive holiday treat because I will definitely be enjoying these cookies all year round.
I'd love to know what your favorite holiday treat is or childhood traditions.  Did you make gingerbread houses in elementary school with milk cartons too? Share your holiday memories with me in the comments below!

Raw Gingerbread Cookies + Balls
Ingredients
View notes for ingredient substitutes.
1 ¼ cup pitted dates, packed
¼ cup almond meal
¼ cup buckwheat groats
¾ cup gluten-free rolled oats
1 tablespoon cinnamon
1 teaspoon ginger
½ teaspoon nutmeg
¼ teaspoon vanilla
¼ teaspoon cloves
Optional: 1 tablespoon coconut sugar
Instructions
Blend all ingredients, except for dates, in a high-speed blender or food processor until you get a fine consistency like flour.
Add in half of the dates and process until well combined, then add the remaining dates until you have a uniform dough.
Scoop dough out about 1 tablespoon in size, roll into balls or flatten with a rolling pin and use a cookie cutter to make desired shapes.
Roll balls into coconut sugar or sprinkle on top of cookies.
Notes
To make nut-free, substitute almond flour with ¼ cup + 1 tablespoon buckwheat groats.
Alternatively, you may substitute buckwheat groats with 3 tablespoons almond flour.
Store gingerbread balls or cookies in an air-tight container at room temperature for a 2-3 days or in the refrigerator for a week.
For extra chewiness, place in the
dehydrator
at 115 F for 2 hours.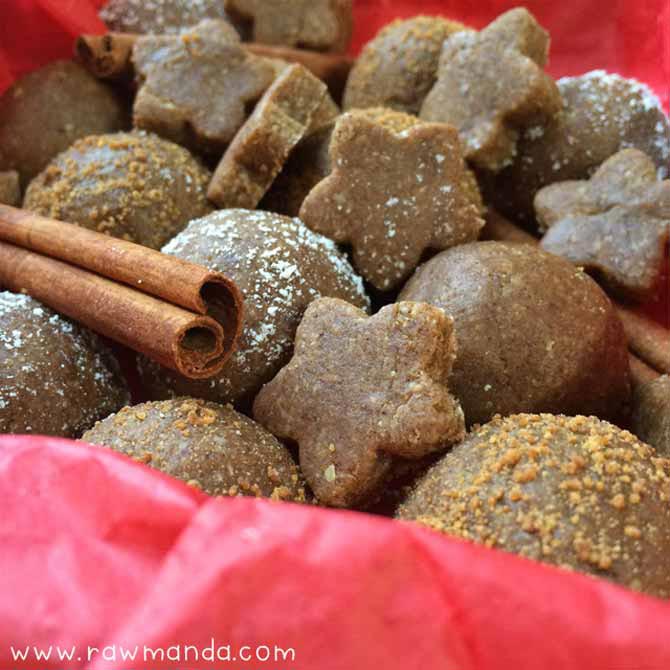 \