Low-fat raw mulberry cookies! Say what? I never thought the words low-fat + raw + cookies could go together!! Raw desserts that are low in fat are pretty much impossible to find. 
Most raw dessert recipes contain high-fat ingredients like nuts, which I definitely think can be a healthy source of fat – it's just the outrageous amount of nuts in most raw desserts that make them unhealthy. These cookies are nut-free and delicious, combining some of my favorite ingredients: dates, mulberries and coconut.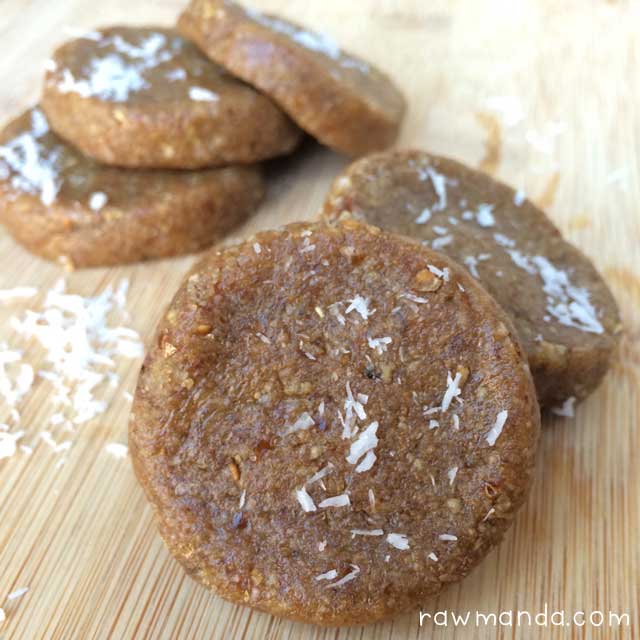 I used to be a raw dessert junkie and it devastated me to see how unhealthy and full of fat most recipes are (aka loaded with fatty nuts and coconut oil). I do enjoy an occasional raw walnut-based brownie or cashew cheesecake but my addiction to high-fat raw desserts did a number to my waistline and my complexion.
I was desperate for a quick and easy recipe that would satisfy my cravings for a raw treat! These 80/10/10 low-fat cookies have a texture that is on point and they taste incredible.  I suggest you try them out yourself – you won't regret it!


3 Ingredient Raw Mulberry Cookies
Ingredients
½ cup dried white mulberries
5 large medjool dates
2½ - 3 tbsp shredded coconut.
Instructions
Blend all ingredients in a high-speed blender or food processor until you get a uniform dough.
Scoop out about 1 tablespoon of mixture, roll into a ball then flatten into a cookie shape.
Store in an air tight container in your refrigerator