Calling all peanut butter lovers! Today I'm sharing the perfect treat for my all peanut butter addicted readers out there.  When life hands you peanuts, make peanut butter cookies!!  This raw peanut butter cookie recipe was inspired by a jar of peanuts that have been sitting patiently in my pantry ready to become raw peanut butter.
I still find making homemade raw nut butters to be a magical experience, I know I can't be alone on this.  I used my high-speed Vitamix Blender to grind my peanuts into peanut butter (a food processor should work too!). When I do pick up store bought raw nut butters, I make sure to carefully read the ingredient labels which should always contain just one ingredient.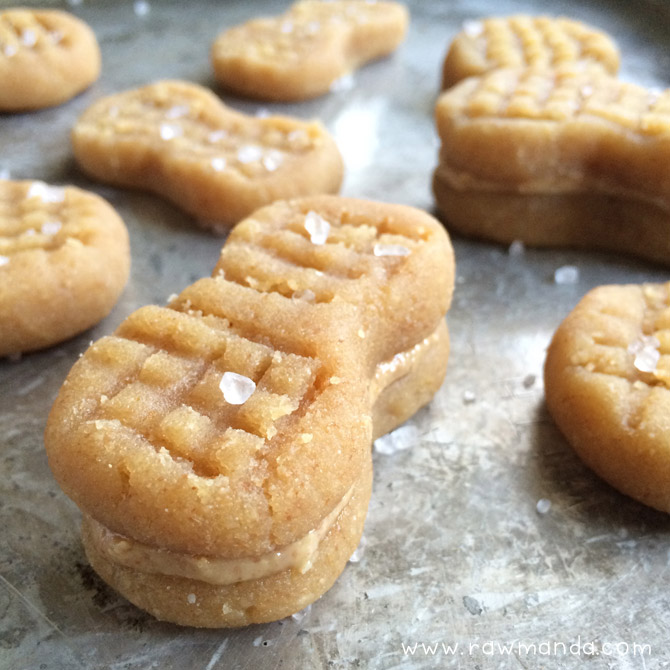 There's something so empowering about making your own food, knowing exactly what is going into it and into your body.  You're in complete control, which means no nonsense like added oils, sugars or preservatives that you'd typically find in store-bought nut butters.  Nut butters were one of the first foods that really opened my eyes to how much crap goes into food that most people are not aware of.  When I started reading labels on my packaged foods, I was really shocked to see a list of unfamiliar ingredients on almost everything I loved.
I remember thinking "What else goes in peanut butter besides peanuts??" Nothing broke my heart worse than reading the nutrition facts on my beloved jar of peanut butter. Here's a look at the nutrition label from from Jiff Creamy Peanut Butter:
Ingredients: Roasted peanuts, sugar, molasses, fully hydronated vegetable oils (rapeseed and soybean), mono and diglycerides, salt.
OH, and I used to think "Reduced Fat" was the way to go.  Boy, was I wrong!  Those words just mean more ingredients I can't pronounce and more chemicals in my body. Here's an example, Jiff Reduced Fat Creamy Peanut Butter:
Ingredients: Peanuts, corn syrup solids, sugar, pea protein, salt, fully hydronated vegetable oils (rapeseed and soybean), mono and diglycerides, molasses, magnesium oxide, niacinamide, ferric orthophosphate, zinc oxide, copper sulfate, folic acid, pyridoxine hydrochloride.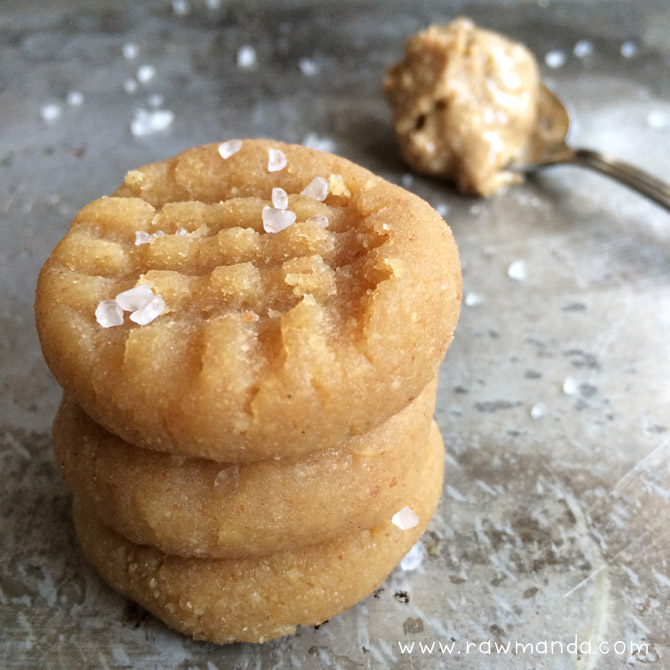 I'm relatively new to the raw foods movement so I will humbly admit that I am not 100% raw but I am darn close! Currently, I'm at about 80% raw (more in the summer, less in the winter) but all that really matters is seeing how far I've come.  Lucky for me, the trend is growing and there are so many companies creating raw food products that are sold in stores, including raw nut butters!  This makes the transition to a raw food lifestyle much easier. Not that homemade nut butter is difficult but it just takes time that I don't always have and not everyone owns a high-speed blender or food processor. Oh, and I can't forget to state the obvious…. raw nut butters taste MUCH better.
I'm so happy that I now read labels on all of my packaged foods.  Parting with my processed peanut butters was a bit heartbreaking at first but it also led to the discovery of raw, organic Once Again Nut Butters.  Once Again is the brand I normally buy when I don't feel like grinding up my own nut butters.  There are many brands of awesome raw nut butters but Once Again seems to be available in a majority of stores.  Lately, I've been noticed more health food stores like Whole Foods and MOM's Organic Market (my local store) with machines that grind up raw, whole nuts into fresh nut butter on the spot!  Another awesome alternative to those nut butters with a long list of ingredients and yucky additives.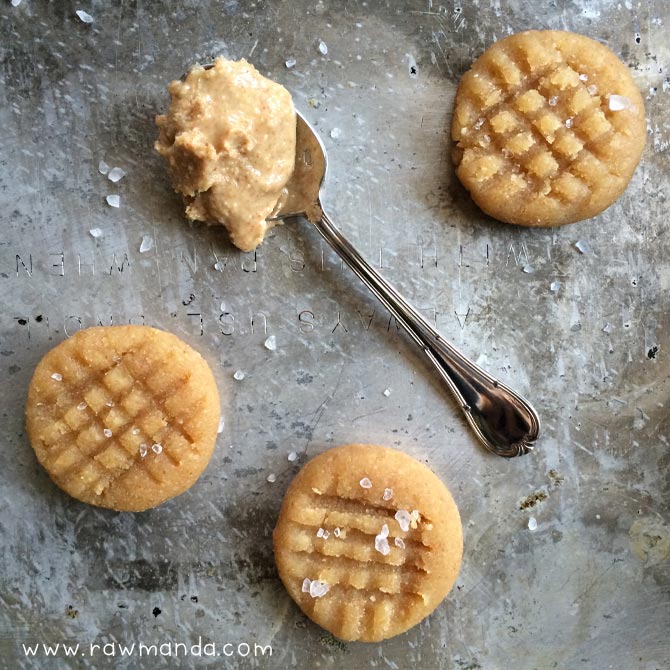 After reading this post, you are probably really craving some creamy raw peanut butter or maybe you're just always craving peanut butter. Either way, you can't go wrong with a fresh batch of raw peanut butter cookies to knock out those hunger pangs.  Feel free to create these cookies with whatever nut butter you have on hand.  Almond butter is my favorite so I'll be testing this recipe out with that soon but for now I'll just be snacking on these delicious raw peanut butter cookies.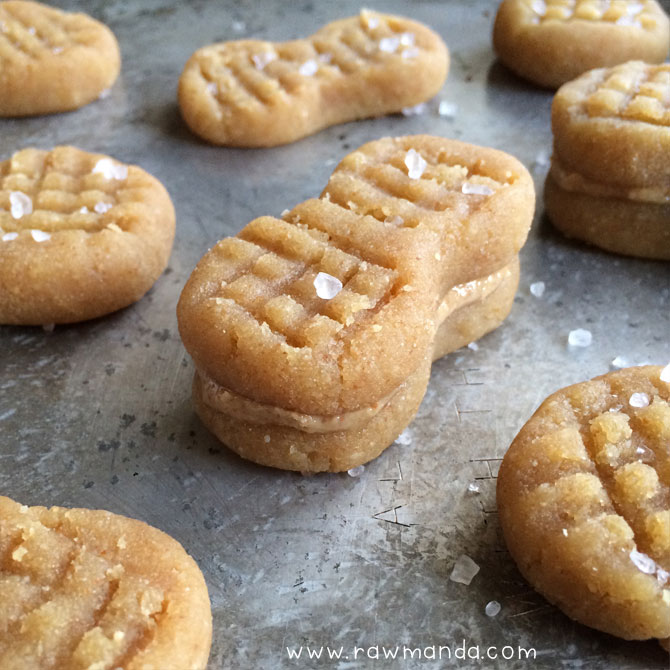 To make these cookies extra soft and chewy, I highly recommend that you toss them into the dehydrator.  I use the very affordable Nesco Food Dehydrator that has been a serious game changer for me during this transition to the raw foods lifestyle. I typically use oat or buckwheat flour to keep my desserts lower in fat, so keep that substitution in mind when you're making these.  However, I wouldn't recommend switching out the coconut flour since it gives a baked quality to the cookie.
Like most raw desserts, there's room for tweaks here and there depending on what ingredients you have on hand.  Don't be afraid of adding a little more sweetener or tossing in some superfood powders like Organic Burst Maca Powder to boost your energy levels and add a nice earthy flavor.  That's what makes raw foods so great, your end result depends more on the quality of your ingredients rather than exact measurements or a precise cooking/baking process. Don't forget to tag me on Instagram @raw_manda and #rawmanda.  I would love to see and share your creations of my recipes!

Raw Peanut Butter Cookies
Soft, chewy raw peanut butter cookies are so fluffy and moist in the center after a few hours in the dehydrator. An easy snack to make for peanut butter lovers! Substitute any nut butter to make your favorite cookie.
Instructions
Sift the coconut flour into a mixing bowl, then add almond flour and remove any clumps.
Add all remaining ingredients and stir together until evenly combined.
Let the mixture sit for a few minutes until the dough thickens a bit.
Transfer mixing bowl to the refrigerator for 1-2 hours. This step to firm up the cookie dough helped me score the tops of the cookies a lot easier.
Scoop out about 1 tablespoon of cookie dough, roll into balls and flatten slightly.
Place cookies onto a parchment paper lined tray.
Score the tops of each cookie by using a fork to press down on the cookie balls, further flattening them about ½ inch thick. I found that dipping the fork into a bowl of water helped me score the tops easier.
Sprinkle sea salt over the tops of the cookies.
Transfer cookies to a teflex tray and place in the dehydrator for 12-16 hours. Dehydrate for longer if you want to store them for a longer shelf life.
Optional: To make nutter butters, spread additional peanut butter between two cookies.
Store cookies in the refrigerator.
Notes
Substitutions:
For a lower fat alternative, replace almond flour with oat or buckwheat flour (grind rolled oats/buckwheat groats into flour with food processor).
Replace peanut butter with almond, cashew, sunflower seed butter.
Replace almond milk with any plant-based milk; soy, cashew or coconut milk.
If you do not own a
dehydrator
, bake on lowest heat for several hours in the oven until outside is dry and the center is still soft.
I might have added some raw
chocolate hazelnut spread
to one of my nutter butter cookie sandwiches for a classic chocolate and peanut butter combo!