Thanksgiving is quickly approaching! This also means pie season is about to officially kick-off. Pumpkin pie is a staple dessert for the holidays around here and as well as a crowd favorite. It's probably one of the healthier pies (maybe?) but there's still tons of room for improvement so that's why I decided to create my own version of this traditional dessert. There's absolutely no need for baking to be involved, let alone eggs or condensed milk.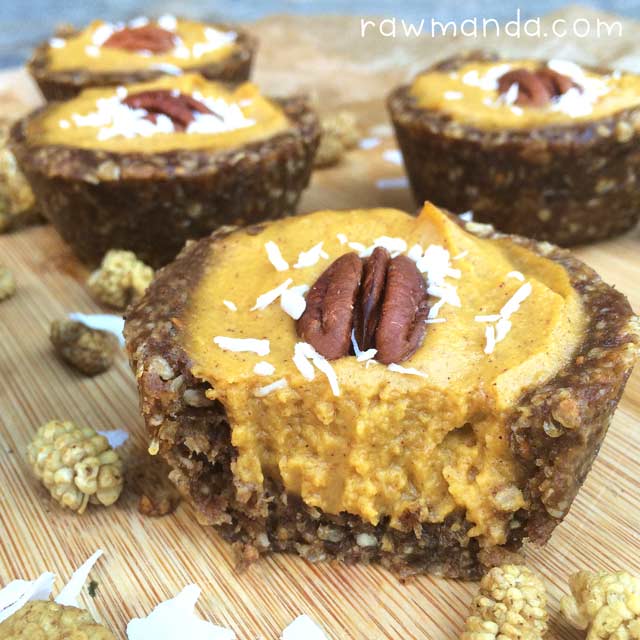 The best thing about this pie is that the crust is really hard to mess up. You'd have to really try. I'm pointing out this awesome fact because that's the part of pie making that seems to really get people flustered. This raw crust is not only extremely delicious with an amazing texture, but it's also ten times better for you. So pass up on the stressful holiday baking and create something that's enjoyable to make.
I chose to make pie tarts with a muffin pan instead of creating a full pie to even out the pie to crust ratio and well, they are way cuter this way! Don't you agree? Using a muffin pan creates the perfect portion and helps avoid the awkward pie fails when cutting up slices. You know what I'm talking about. Pies are always falling apart once it's time to cut and serve. You can't go wrong with the presentation here.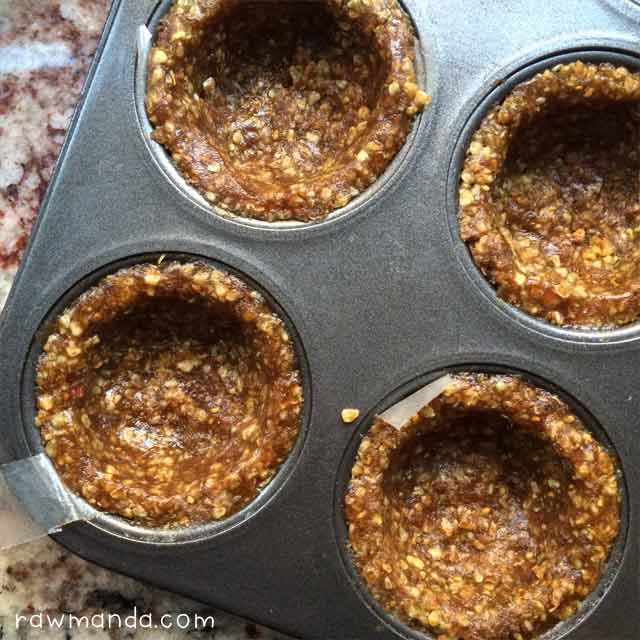 I also ditched the refined sugar and sweetened this pie up with delicious fresh dates. I went with khadrawy dates for the pie crust and zahidi dates in the pie filling but as long as you use soft dates, any variety will work out perfectly. I used a small amount of nuts compared to most typical raw desserts to keep the fats low in this dessert, making it a guilt free treat. Mulberries also add awesome texture to the pie crust. The combination of just 3 simple ingredients creates a delicious crust that compliments the creamy rich pie filling that will make you think was sinful. This is definitely not the case.
By simplifying the ingredients used in this filling I increased the nutritional value by taking out all of the processed junk and replaced it all with healthy whole foods. It's win win all around! The decadent filling is created with pumpkin puree, dates, coconut butter, almond milk and spices. Make sure you use coconut butter and not coconut oil!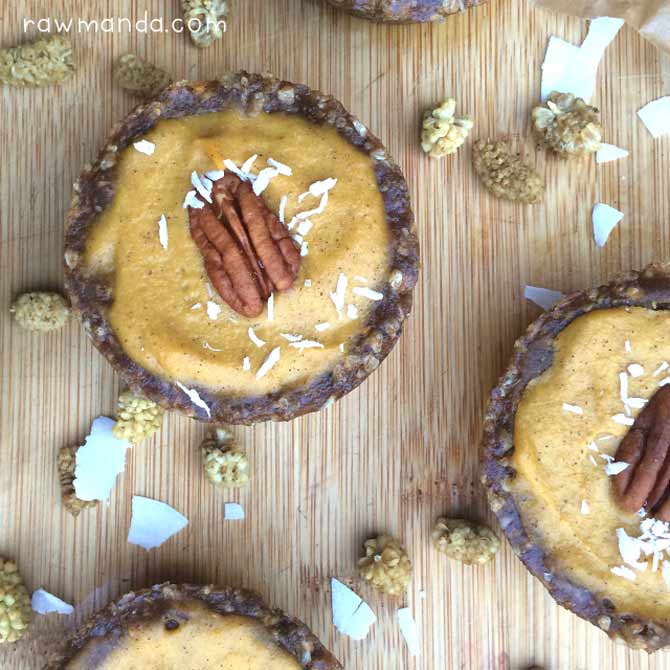 How to Make Raw Pumpkin Puree
Pumpkin puree can be a tricky ingredient when it comes to eating fully raw. However, it's very possible to create raw pumpkin puree with a little patience. All you need to do is peel, de-seed and chop up your sugar pumpkin into small cubes. Place your chopped pumpkin in a food processor to break down the pieces further then throw the processed pumpkin chunks into a high-speed blender. Blend until you have a very creamy smooth uniform puree.
If you're short on time or just like to simplify things use canned pumpkin puree. As long as it's organic, non-GMO and BPA-free canned pumpkin puree. I often use canned pumpkin puree in other desserts and sauces since I usually don't need too much or pumpkins are not available year round.
If you want to bring something unique to the table this Thanksgiving then impress your friends and family with this homemade raw pumpkin pie. Raw desserts are a great was to introduce others to a raw food diet. Spread the health this holiday season and make these delicious pumpkin pie tarts!

Raw Pumpkin Pie Tarts
Ingredients
View notes for baking options.


Pumpkin Pie Crust
2 cups dried white mulberries
1 cup soft dates
½ cup pecans


Pumpkin Pie Filling
2 cups pumpkin puree
2 cups soft dates
⅓ cup coconut butter
¼ cup almond milk
2 teaspoons pure vanilla extract
1 teaspoon cinnamon
1 teaspoon pumpkin pie spice
1 teaspoon ground ginger
Instructions
Blend all crust ingredients in a food processor until you have a thick, uniform crust texture.
Scoop dough out and mold to parchment lined muffin pan creating a bowl shape.
Place crust in the freezer while you prepare the filling.
Blend all filling ingredients in a high speed blender or food processor until you have a creamy uniform consistency.
Remove muffin pan from the freezer and scoop filling into your crust.
Place pumpkin pie tarts in the freezer for at least 2 hours.
Take the tarts out of the freezer 20-30 minutes before serving.
Notes
Place coconut butter jar in a bowl of warm (not hot) water for 5 minutes to soften it up.
If dates are not soft, soak them in warm water for at least an hour ahead of time.
If crust is too sticky to manage, wet your fingers to help shape the tarts into the muffin pans.
If you or your guests prefer a warm pie, simply place the frozen pumpkin pie tarts in a preheated oven (350 F) for 30 minutes. Carefully remove tarts from the oven and serve.