Last week I posted a recipe for nut-free mushroom meatballs that were made with rolled oats. I decided to create a different version of those mushroom meatballs but this time around I used buckwheat groats to see how different the texture would be. These raw vegan teriyaki meatballs and burgers turned out amazing and were incredibly moist!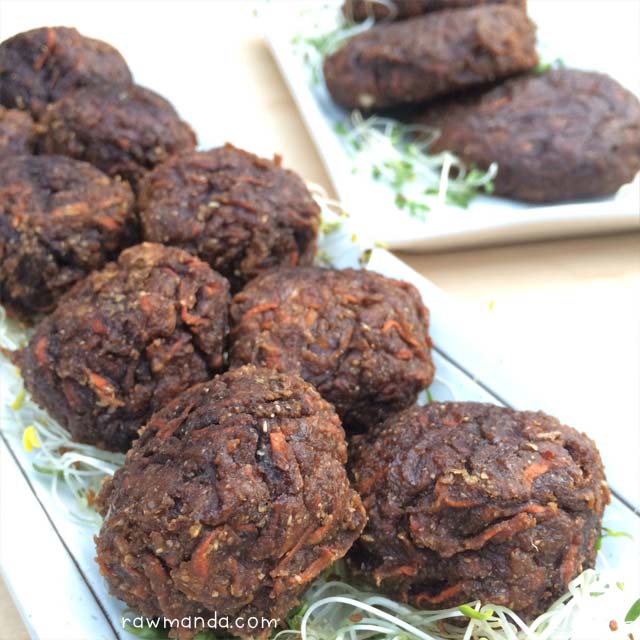 I also created burgers in addition to the meatballs. This worked out flawlessly, I just needed to keep them in the dehydrator for an additional 2 hours before they were ready to eat. It's incredible how much they looked just like cooked meatballs and burgers! The outside of these vegan meatballs were perfectly "baked" with a slightly crisp texture and were incredibly smooth and savory on the inside.
Most meatball recipes have fillers like breadcrumbs that make them unhealthy and full of gluten. Eggs are also a common ingredient that are used to hold meatballs together.  There's no need for that here! These meatballs easily stick together thanks to the help of some medjool dates.  Any variety of dates will work for this recipe, just make sure they are soft by soaking them in warm water at least an hour before blending.  Raw foods continue to amaze me, there's so much more flavor and most importantly they are a very healthy meat-free alternative!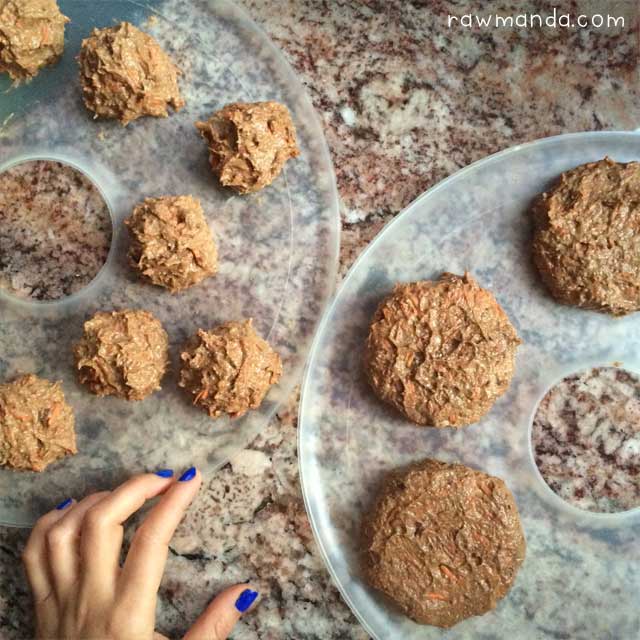 These meatballs are the total package: nut-free, gluten-free, raw and vegan. People have so many dietary needs and food allergies so if you're trying to provide the perfect healthy option that will please a big group, these meatballs will be a hit.
If you are just trying to incorporate more plant based foods into your diet or don't own a dehydrator you could easily put these meatballs on a parchment paper lined baking sheet and bake them in the oven. I plan to prepare a large batch ahead of time so that I can store the meatballs in my freezer to have them ready whenever I'm craving a savory raw meal and can just pop them in the dehydrator.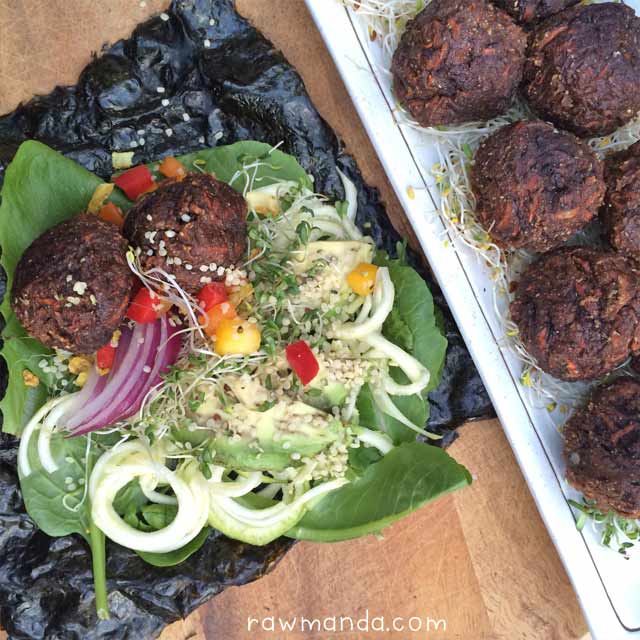 I hope you're enjoying my dehydrator recipes, the one that I use can be found on Amazon. I think it's very reasonably priced and has made transitioning to a raw vegan lifestyle so much easier for me.  I can easily add warm meals to my diet while still preserving the nutritional benefits of my food by dehydrating at a low temperature (usually between 105 F and 115F).
I decided to wrap my meatballs in raw nori sheets, but you can eat them with pasta, in a salad or in a sandwich.  They are also ideal for a quick savory snack or appetizer too.  Please let me know in the comments below if you are enjoying these savory raw dishes, I'm having so much fun coming up with them!

Raw Vegan Teriyaki Mushroom Meatballs + Burgers
Serves:
24 meatballs or 8 burgers
Ingredients
1 cup buckwheat groats
3 cups mushrooms, chopped
2 cups carrots, finely grated
½ cup soft medjool dates
¼ cup almond flour*
½ cup red onions, finely chopped
1 tablespoon coconut secret garlic sauce
½ -1 tablespoon minced garlic
½-1 teaspoon pepper
dash sea salt to taste
Instructions
Blend buckwheat groats in a food processor or high-speed blender until you get a fine consistency like flour.
Add all of the remaining ingredients and blend until everything sticks together very well.
Roll mixture into about 10 balls, a little bigger than a tablespoon in size.
Place in the dehydrator (115F) for 8-10 hours, flipping halfway through.
Notes
If dates are not soft, soak in warm water for at least an hour ahead of time.
Replace coconut secret teriyaki sauce + ginger sauce with low-sodium soy sauce or tamari and 2 teaspoons minced garlic.
If you do not have a dehydrator, bake at 350F in the oven until outside is dry + center is still soft.
*Replace with more buckwheat groats for a nut-free version.