Let me start off by recommending that you make this spicy buffalo cauliflower popcorn at night before bed so you're not awake and tempted by the amazing smells from your dehydrator. It was literally impossible to wait for these to be completely done before sampling.  I must've "tried" them out 5 different times even when I knew they weren't ready.  This spicy buffalo sauce is just too delicious for words!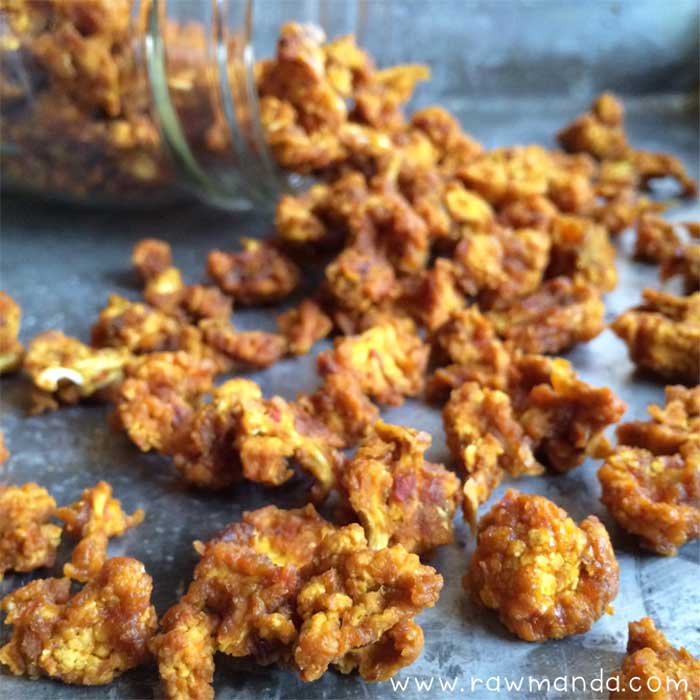 The key to making the cauliflower as crunchy as possible is cutting your florets into tiny pieces otherwise you will get chewy cauliflower.  Chewy is still tasty too because the flavors are just so delicious but I prefer crunchy, so stick to small if you're like me.  I could have probably made my pieces even smaller than I did, but it still worked out well just try to chop them even smaller than the photo below.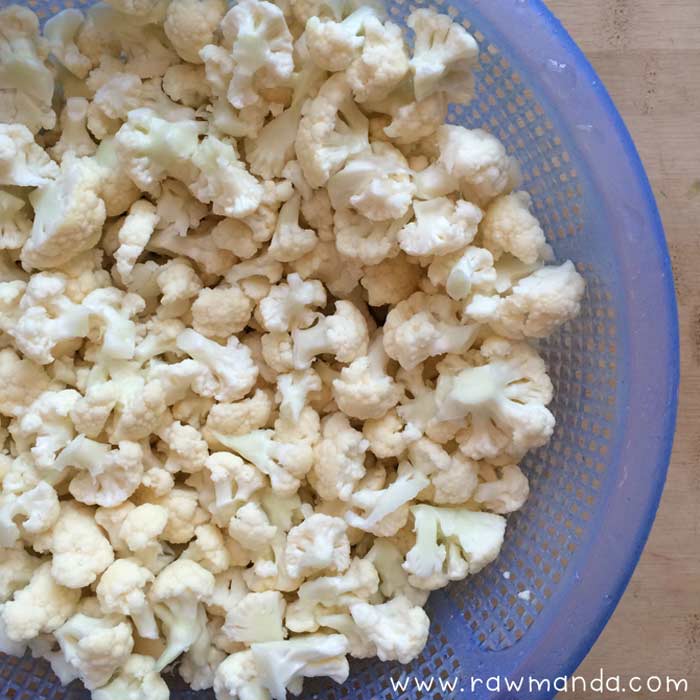 I love dehydrating because there is a minimal loss of nutrients when the dehydrator set to a temperature of 118F or lower. By using a dehydrator at this temperature, I am able to retain about 90% of the vitamins and minerals in my food keeping it "alive". When the dehydrator is set to higher temperatures, the food dehydrates faster resulting in more nutrient loss — but keep in mind it's a lot less than what you would lose in a conventional oven, and for that reason I don't think it's terrible if you bump up the temperature of your dehydrator if time isn't on your side. If you're wondering which dehydrator I use, it's the Nesco Snackmaster Pro Food Dehydrator. I love it because it's reasonably priced and gets the job done every time.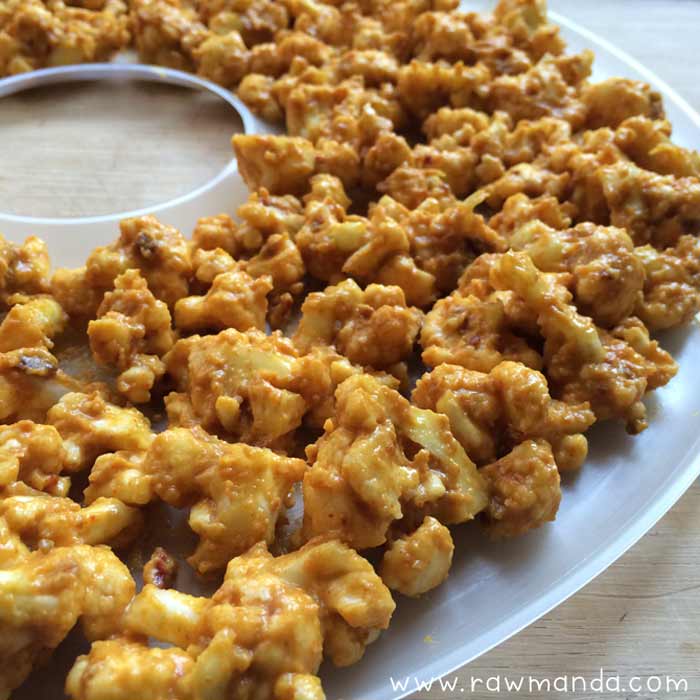 This is the perfect snack to bring to school or work, on a road trip or just to have laying around the house to munch on. The flavor of this spicy buffalo sauce has a sweet component from the dates and a nice spicy kick from the cayenne. Studies show that cayenne is a great digestive aid and helps in breaking up and moving congested mucus. So if it's wintertime and it's faaaaa-reeee-zzzing where you live too, get over that cold or just clear out your system by adding a little cayenne pepper to your meals. Another cold-fighting spice I've used in this recipe is turmeric, which seems to be the "trending" spice lately. Besides giving the cauliflower popcorn a gorgeous pop of color, turmeric adds a warm and slightly bitter taste. If you're not familiar with it use just a pinch to start and add more to the sauce after testing the flavor.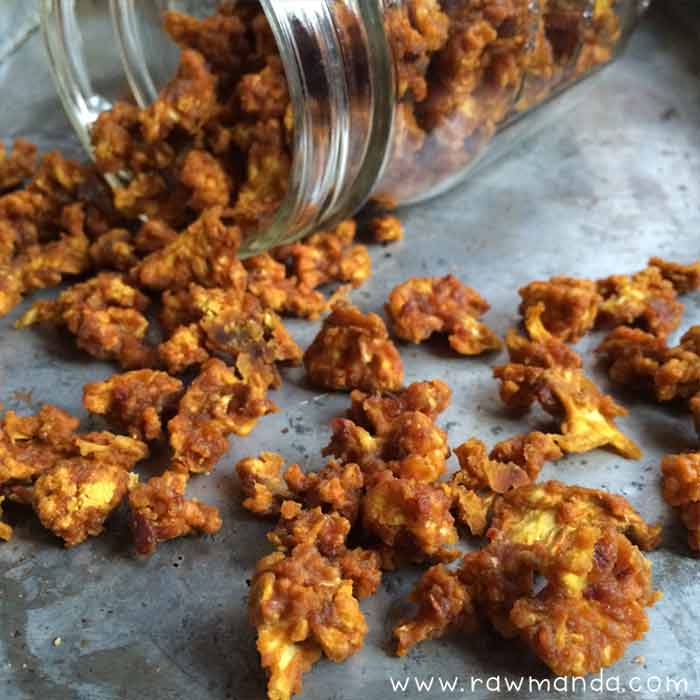 If you're not looking for a crunchy snack and raw isn't your thing, you can easily just pop your spicy buffalo cauliflower in the oven at 350F for 20-30 minutes. They are still delicious!  I placed a small batch in the oven to test it out. This is what happens when I create recipes during the day, I secretly test different ways to prepare recipes so I can eat them sooner since dehydrating takes time. Don't get me wrong, I love the results and flavors that I get from using my dehydrator but patience isn't always my best quality.
I really hope you try out this savory snack and let me know what you think by leaving your feedback in the comments below! Hearing back from people really helps me improve my recipes and  I obviously love connecting with you all anyways so don't hesitate to just say hi either :)

Spicy Buffalo Cauliflower Popcorn
Ingredients
2 heads of cauliflower
-
Spicy Buffalo Sauce
¾ -1 cup dates
½ cup filtered water
¼ cup sun-dried tomatoes
2 - 3 tablespoons nutritional yeast
2 tablespoons raw tahini
1 tablespoon apple cider vinegar
1-2 teaspoon cayenne pepper
2 teaspoons garlic powder
2 teaspoons onion powder
½ teaspoon turmeric
Instructions
Chop your cauliflower into tiny pieces, cutting the florets as small as possible to get the crunchiest and most flavorful popcorn!
Place all ingredients for spicy buffalo sauce in a high speed blender (I use a vitamix) and blend until mixture reaches a thick uniform consistency.
Pour or spoon your spicy buffalo sauce into a large mixing bowl and set aside.
Toss the florets into your spicy buffalo mixture and stir until every piece is well covered with the sauce.
Place your spicy buffalo cauliflower florets onto your dehydrator trays.
Optional: Sprinkle a little sea salt or favorite herbs over top of your cauliflower.
Dehydrate at 115 F for 12 - 24 hours, until desired crunchiness. The longer you dehydrate the crunchier your cauliflower will get.
Notes
Soak sun-dried tomatoes in warm water at least one hour ahead of time.
If you are not using soft, fresh dates then soak your dates in warm water at least one hour ahead of time.
Store in an air-tight container in the refrigerator for a few days.
If you don't own a dehydrator, bake on the lowest temperature (mine goes down to 170F).