It's no secret I love to make my own raw desserts and snacks, mainly because I find it hard to trust the integrity of most brands. There's very little regulation over the terms used in the food industry. People go crazy over the word "natural" on food packaging but what does that even mean? Pretty much nothing. So it goes to show how misleading food marketing can be and how misinformed many people are.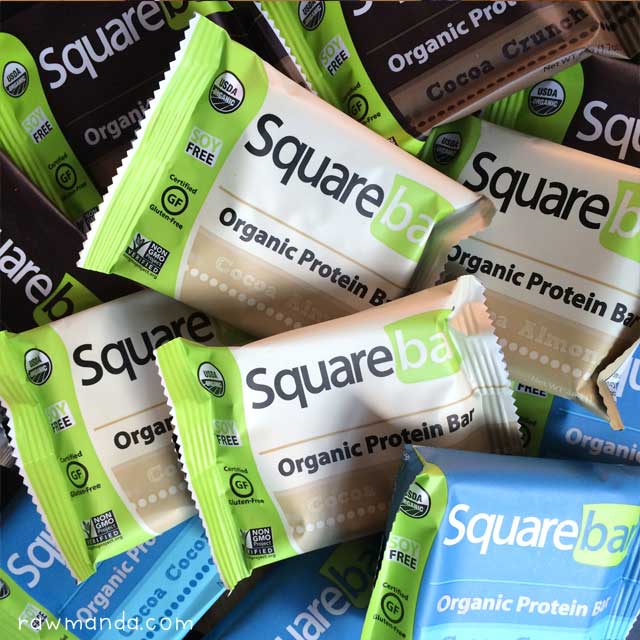 Sarah Gordon, co-founder of Squarebar, reached out to me over the summer to see if I was interested in sampling their products. Before responding to her email, I  went to their website to learn more about the protein bars and most importantly, to view the list of ingredients used.
Product Details: Organic & Non-GMO Project Verified, Gluten-Free, Dairy-Free, Soy-Free, Peanut-Free, and Corn-Free, Coconut Nectar Sweetened (Low Glycemic), No Added "Natural Flavors," Real Chocolate Coated, Vegan
Flavors:
Cocoa Almond: Chunks of almond, with just a hint of cinnamon for spice, coated in antioxidant-rich dark chocolate.
Cocoa Crunch: The most chocolately of the four, complete plant-based protein, and brown rice crispies for a 'crunch.'
Cocoa Coconut: Shredded coconut and extra virgin coconut oil make for a creamy coconut flavor.
Cocoa Mint: Dark chocolate paired with refreshing peppermint and crunchy brown rice crispies!
I was honestly shocked to see that I recognized every ingredient on the list. This is extremely rare. Normally, when I'm reading the labels of packaged foods, there's at least a few ingredients I can't pronounce, don't recognize or know will be harmful to my body.
The worst thing about most protein bars is their artificial taste. This is not the case with Squarebar! I gladly accepted Sarah's offer to try the bars and was thrilled about how amazing the bars tasted.  Squarebar has great texture with a smooth chocolate shell on the outside and soft center that tastes cleaner than any store-bought protein bar I've ever tried!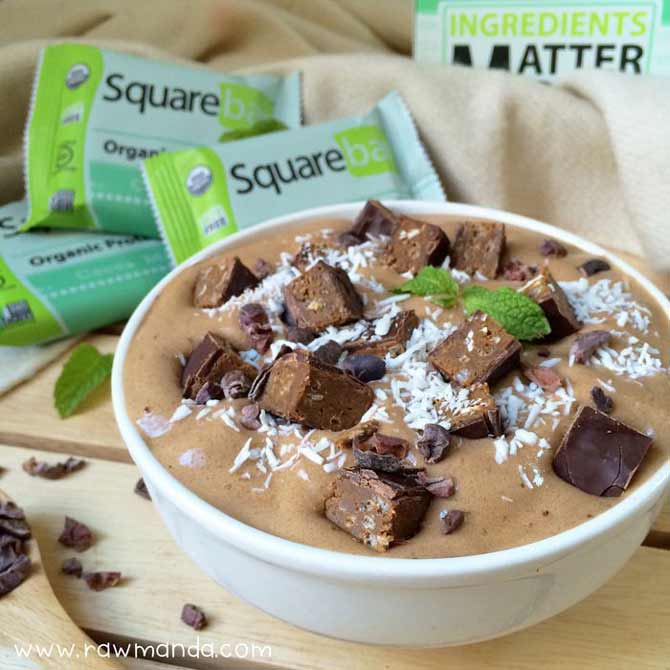 Last week I was lucky enough to have been sent samples of Squarebar's newest flavor, Cocoa Mint.  It's safe to say that this is by far my favorite flavor that they offer! I just love the smooth mint chocolate center and little rice crisps that add a nice crunch to the texture. Cocoa mint is perfect for the holidays and will definitely not be lasting too long around here.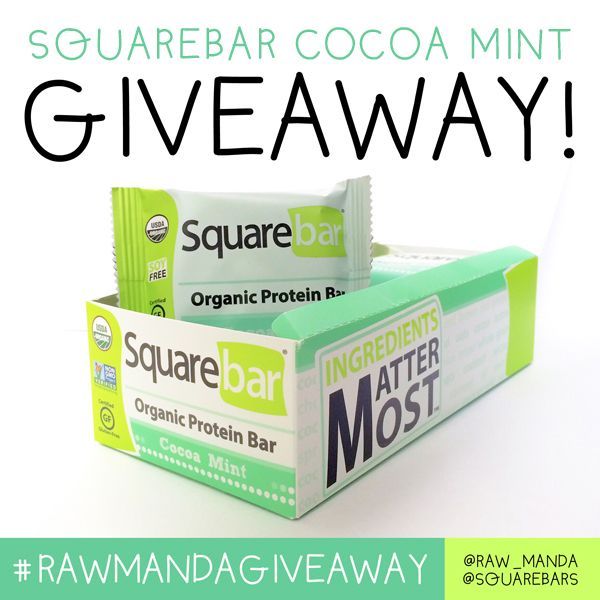 WORLDWIDE Giveaway!
I've teamed up with Squarebar to offer a FREE box giveaway to my Instagram followers. It's just in time for the launch of their BRAND NEW flavor Cocoa Mint! Each box is priced at $34.49 USD, so this is a great opportunity to get your hands on a box of your own!
Instagram Contest Rules (12/8 – 12/15):
1.  Repost this photo to your Instagram account.
2. Tag @raw_manda, @squarebars and #rawmandagiveaway in the original caption.
The winner will be announced Monday (Dec 15) and will receive a box of Squarebars (Cocoa Mint OR flavor of their choice). Giveaway is open WORLDWIDE. Only one entry per day, please! Good luck and happy reposting! xx
20% Discount Code
Get 20% off Square Bars + free domestic shipping if you purchase a box using the discount code "raw_manda" on the Square Bars website.