I was recently asked by Kris Schoels of The Chic Wife to share a typical day of eats and fitness for her blog!  Here is a quick look at what I eat in a day and why I started a plantbased diet.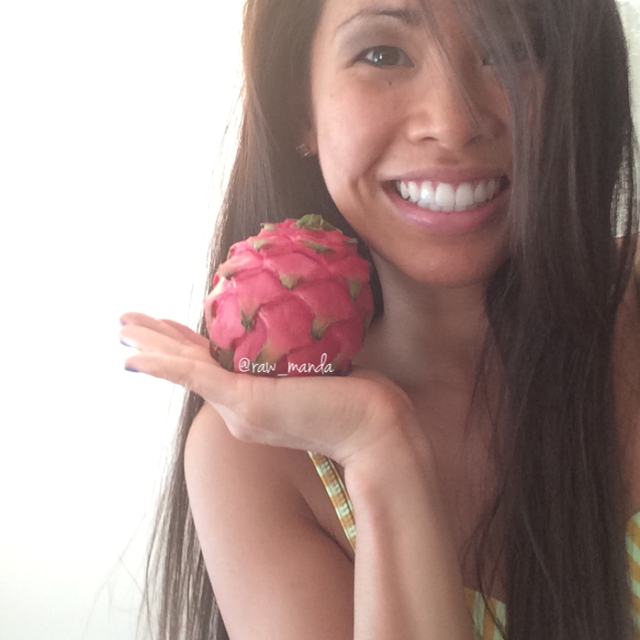 I have always been health conscience, but that didn't necessarily mean I was eating the right foods. I've definitely been guilty of falling for the misleading product marketing that will slap the label "lean" or "healthy" on a frozen dinner. Everyone has his or her own definition of what "real food" is. For me, it's fresh, whole, living, raw plant-based foods.
After watching food documentaries on Netflix, I became curious about adopting a plant-based diet. I came across "The 80-10-10 Diet" earlier this year while I was looking for information online about the raw vegan lifestyle. This eating plan follows a low fat approach to raw veganism. 80 percent of my calories come from carbohydrates (mainly fruits and veggies), 10 percent from healthy fats and 10 percent from protein. By keeping my carbs up and fats down I've experienced better digestion, more energy and less cravings for unhealthy processed "foods".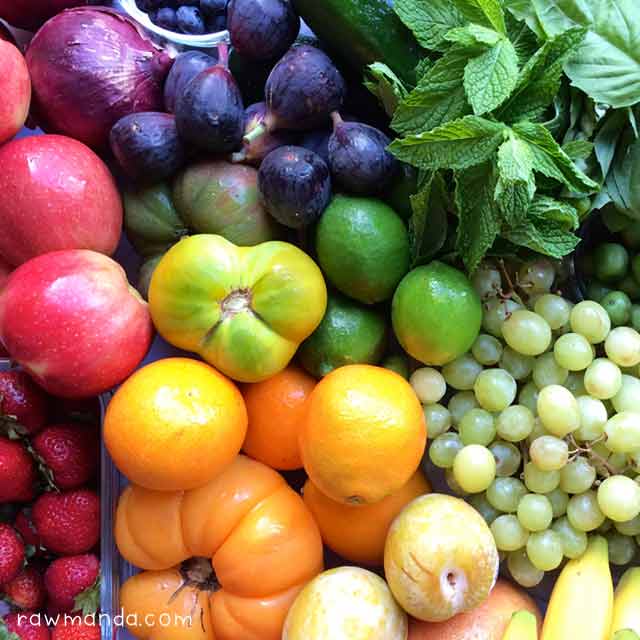 My diet consists mainly of smoothies, fruit platters, huge salads and snacking on dried fruits (dates, mulberries and figs). There is very little food prep required on this lifestyle, which is the best part of eating a diet that consists of 100% raw fruits and vegetables. Eating fresh plant-based foods in their raw state means no need for any cooking.
Breakfast: I love starting my day with a plate full of in-season fruits; summer is a great time for figs, peaches, nectarines and plums! I will grab ready to eat fruits if I'm short on time in the morning like bananas and dates.
Lunch: I am addicted to smoothie bowls and have one pretty much every day. I normally blend 5-7 ripe frozen bananas as a base. I use very little water, if any, in my blender because I prefer a thicker consistency, like ice cream. I'll also throw in coconut sugar, cacao powder, cinnamon, matcha or fresh fruits to create different flavors for variety.
Dinner: I typically end my day with a massive, fully raw salad, packed with leafy greens, fruits, veggies and a few nuts. My favorite kitchen tool is my spiralizer. I use it to make zucchini noodles, or "zoodles", which are almost always in my salads. I'll top off my salad with a homemade dressing since store bought ones are loaded with preservatives and other junk. One of my go-to dressings is made with mangoes, cherry tomatoes, sun-dried tomatoes and medjool dates.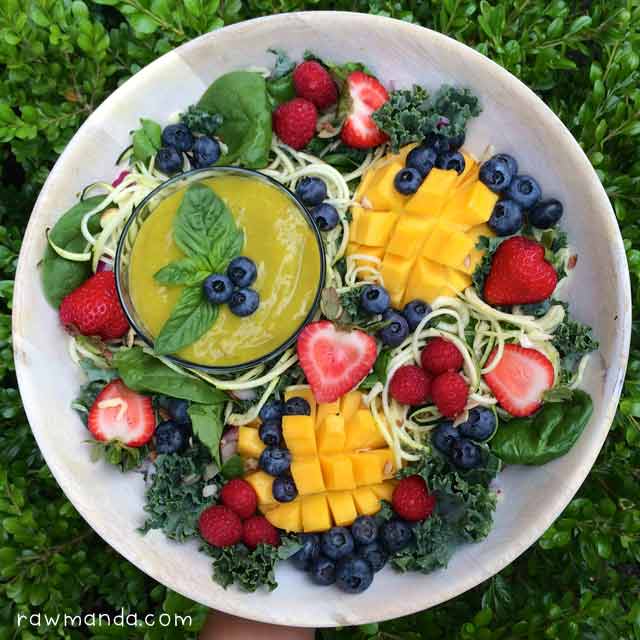 Starting this lifestyle has been so rewarding. I am able to appreciate foods in their raw, natural state. Biting into a ripe, juicy mango is so much more enjoyable than mindlessly munching away at a processed bag of chips that would just leave me unsatisfied and hungry for more. It all really makes sense once you actually experience the lifestyle and feel the benefits; our bodies were designed to consume natural foods.
Work Outs: I work out 6-7 days a week for 30-60 minutes. I rotate between yoga, pilates, weights, cardio and make sure to have a day dedicated to stretching. You really don't need a gym membership to stay fit. I'm a huge fan of fitness videos on YouTube. POPSUGAR fitness is one of my favorites – there are tons of 10-minute workout videos that you can squeeze in if you're short on time or pair together for a longer workout. Check out my Fitness board on Pinterest for some of my favorite work-outs, motivation and fitness videos.
I never use elevators. I make a conscious effort to always use the stairs wherever I am. Although walking up the stairs isn't considered working out, I think it's a really good habit to make.
Healthy Tip: Eat whole fruits and vegetables, preferably organic produce as much as possible! Research the "dirty dozen" to help prioritize organic purchases as some produce are more likely to be contaminated than others.