Temperatures in DC have plummeted the past few days which is slightly depressing after just having such enjoyable warm weather this fall. We're even expected to see our first flurries of the winter season this week. As the weather gets colder, it will get a little harder to eat fully raw most days but my goal will be to keep my first two meals of the day fully raw. Lately, I've been incorporating a few cooked foods into my meals lately such as brown rice, butternut squash and sweet potatoes.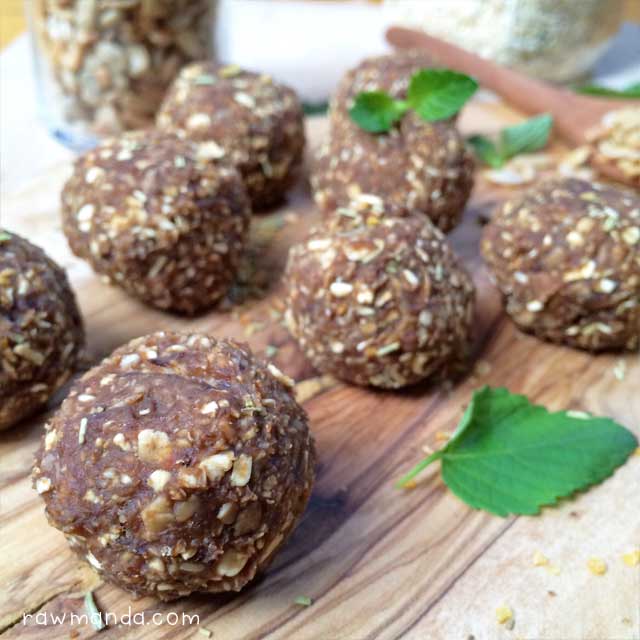 How to Eat Warmer Foods on a Raw Diet
One way to eat "warmer" foods and still maintain a raw diet is using a dehydrator. Dehydrators are great for keeping living foods alive. The most sensitive enzymes in food start to get effected by heat above 118 degrees Fahrenheit. Although this is temperature can be a strict guideline for many raw foodist; I'm okay with nudging the dial a little if I'm short on time. For me it's all about doing the best I can in this transition period. I'm proud every time I even use my dehydrator!
My dehydrator has seen a lot more action lately so I have a feeling it now has permanent spot on the counter. Besides making kale chips, I never really paid much attention to making recipes in my dehydrator. It might be because I like to eat my food right away but the more I've been using it I realize it's definitely worth the wait!
Best Dehydrator for a Raw Lifestyle
I currently own the Nesco Snackmaster Pro Food Dehydrator that I received as a gift from my sister a few years ago. So I've had it long before I became vegan and started eating mostly raw foods but never really made good use of it! I really do love this dehydrator. It's extremely well priced in my opinion and does a phenomenal job at dehydrating everything I've put in there. Many people love the popular Excalibur Food Dehydrator but it's four times as expensive as the one I own! The one drawback of the Nesco for me is that the circular trays have a hole in the center that make it hard to dehydrate foods like pizza that would need a larger surface.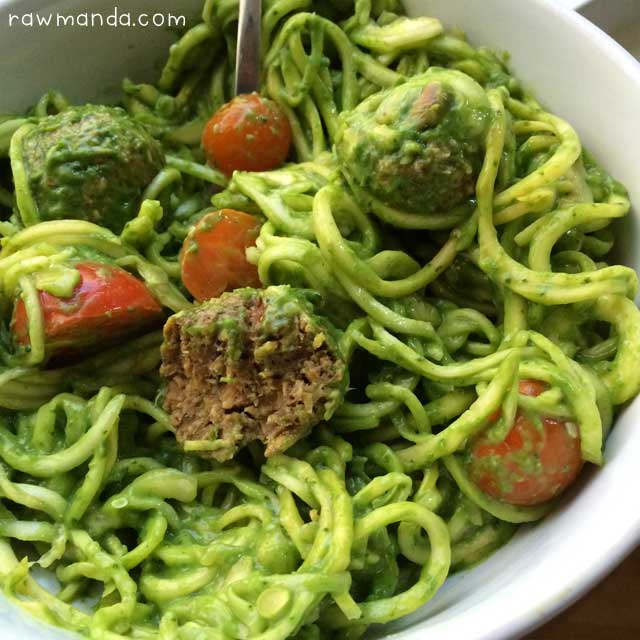 Now on to the fun stuff, vegan meatballs! I prefer my foods a little sweeter and really don't enjoy salty foods as much ever since I changed my lifestyle and diet. So these vegan meatballs might be a little sweeter than most people are used to, if prefer your meatballs to be savory then omit or use less dates.
The flavors in these vegan meatballs are to LIVE for! I'm really happy with the result and already bought more mushrooms today to make them again. This is what I do. I find things I really like then I make them a million times but when it's raw food I rarely get sick of it, I just crave it more and more. Luckily I was able to keep the fats low in these meatballs so I can enjoy a bunch of them with zero guilt.
I also decided to make a creamy avocado sauce while the meatballs were in the dehydrator. The flavors went together so well, sometimes I surprise myself when I'm putting together these recipes. Creating raw recipes is so fun and flexible; there's so much room for creativity. I find that raw food recipes are much more forgiving when you're playing around with flavors especially when you're not using too many ingredients. I hope I've inspired you to try these delicious meatless meatballs!

Vegan Meatballs + Creamy Avocado Sauce
Serves:
2 large servings or 4 small servings
Ingredients
See notes for ingredient substitutes and replacements.


Meatballs (10)
1 cup mushrooms, chopped
½ cup gf rolled oats
3 medjool dates
2 sundried tomatoes
2 tablespoons sunflower seeds
2 tablespoon nutritional yeast
1 tablespoon coconut aminos
1 tablespoon coconut vinegar
1 garlic clove
1 teaspoon cumin
1 teaspoon rosemary garlic powder


Creamy Avocado Sauce
½ avocado
½ cup kale/spinach (optional)
2 tablespoons maple syrup
2 tablespoons coconut vinegar
¼ - ½ lemon
2 tablespoons water
1 tsp minced garlic


Pasta
4 Yellow Squash or Zucchini
1 cup cherry tomatoes
1 tablespoon nutritional yeast
1 tablespoon hemp seeds
Instructions
Add all of the ingredients for the meatballs in a food processor or blender, blend until everything sticks together very well.
Roll mixture into about 10 balls, a little bigger than a tablespoon in size.
Place in the dehydrator (115F) for two hours, flipping halfway through.
Add all of the ingredients for the creamy avocado sauce in a food processor or blender, blend until you get a smooth uniform consistency.
Use a spiralizer or julienne your squash or zucchini.
Place squash/zucchini noodles into bowls, top with creamy avocado sauce and meatballs.
Notes
Substitute coconut aminos for low-sodium tamari or soy sauce.
Substitute coconut vinegar for apple cider vinegar or rice vinegar.
Substitute maple syrup for any other liquid sweetener.
If you do not have a dehydrator, bake on low heat in the oven until outside is dry + center is still soft.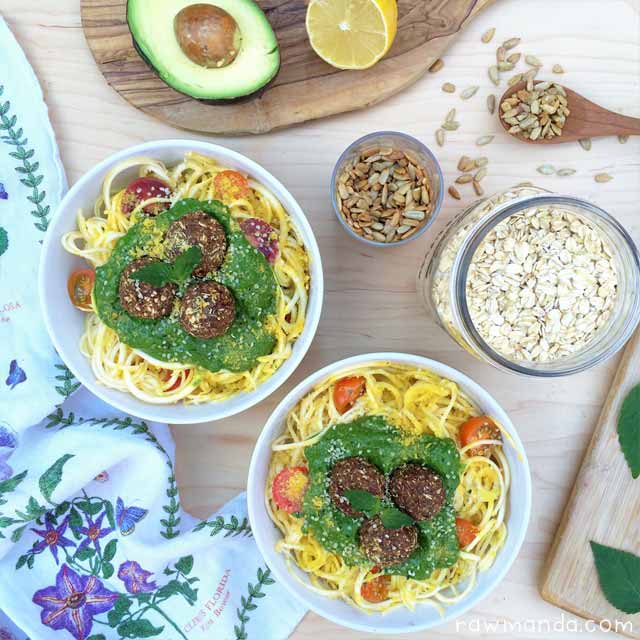 This is not a sponsored post.  I received the Nesco Snackmaster Pro Food Dehydrator as a gift from a family member.  However, the post does contain affiliate links in which I receive a small commission if the items are purchased through my links.  The money will go to support and help cover expenses associated with this blog. Thank you!