Calling all coffee lovers! This simple no-bake version of Tiramisu with coffee and vanilla cream layers is just the thing you need for a sweet pick me up. As always, all of the ingredients are 100% vegan! This delicious dessert is gluten-free, grain-free, refined sugar-free, egg-free and dairy-free so you can serve these little slices of heaven to the pickiest eaters :)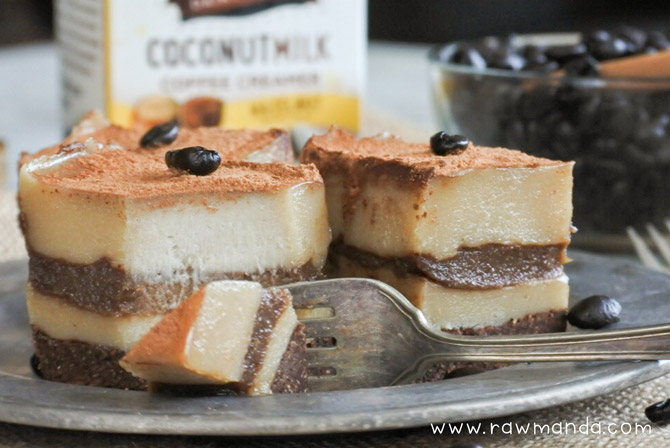 If you're anything like me, you ALWAYS go for the coffee-flavored treats. Tiramisu is a classic favorite and is the perfect coffee-infused dessert to satisfy your sweet tooth cravings.
If you decide to give this recipe a go, don't forget to use the hashtag #rawmanda on social media so I can find your wonderful creations. Let me know in the comments what you think, enjoy!

Vegan Tiramisu with Coffee and Vanilla Cream
Ingredients
Base
1 cup dates
1 cup rolled oats
3 tablespoons ground coffee
2 tablespoons cacao powder
2 tablespoons cacao nibs
-
Vanilla Cream
2 cups macadamia or pine nuts
1½ cups coconut cream
¼ cup coconut oil
¼ cup dairy-free creamer
3 tablespoons maple syrup
1 tablespoon vanilla extract
-
Coffee Layer
1 cup cashews, soaked
1 cup dates
¼ cup strong black coffee
2 teaspoons vanilla extract
pinch sea salt
Instructions
Place the cashews in a bowl, cover with water and soak overnight. The next day, drain and pat the cashews dry.
Line a loaf pan with parchment paper and set aside.
To make the base: Blend the oats into flour using a food processor. Add the remaining ingredients and process until the mixture sticks together when pressed with your fingers.
Evenly press the base mixture into the prepared pan.
To make the vanilla cream: Blend all of the vanilla cream ingredients in a high-speed blender until smooth.
Evenly pour half of the vanilla cream into the prepared pan and set the remaining mixture aside. Chill in the freezer for at least 30 minutes.
To make the coffee layer: Blend all of the coffee layer ingredients in a high-speed blender until smooth.
Once the vanilla cream is firm, spread the coffee layer over the vanilla cream.
Finally, spread the remaining vanilla cream over the coffee layer and return to the freezer to set overnight.
Once all of the layers are firm enough to slice, lift the slab out of the pan and cut into squares using a sharp knife. You may need to leave the slab out on the counter to soften up for a few minutes to slice.
Optional: Dust with cacao powder and garnish with an espresso bean.
Store in the refrigerator for 1-2 days or in the freezer for 2-3 weeks.